12 Best Hairstyles for Party Wear Sarees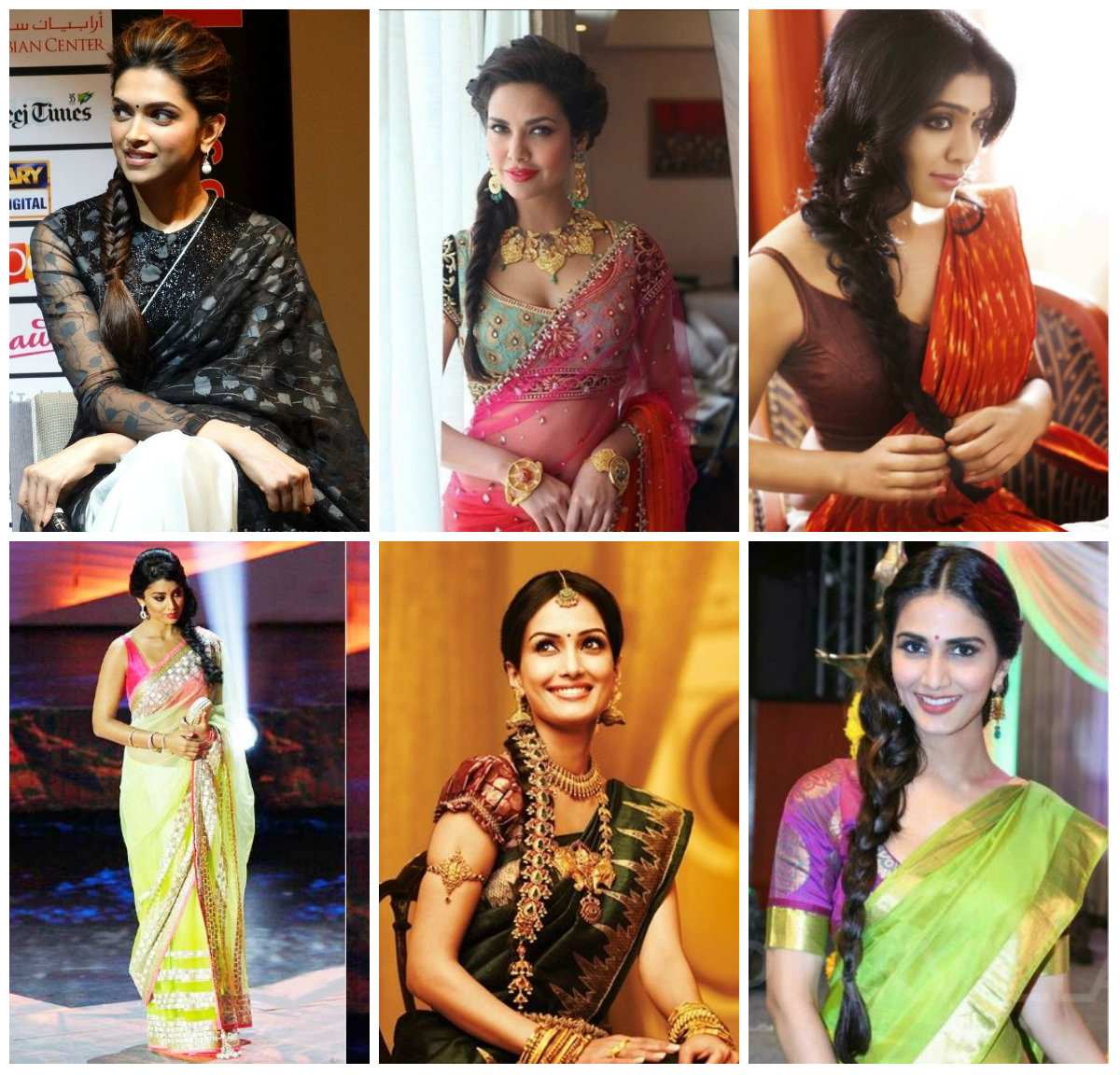 Ladies, in general, are extremely conscious in respect of getting that ideal hairstyle done to match the saree look for party wear. Flaunt those perfect tresses in a host of fashionable hairstyles as we guide you in the best possible manner. We get you the current trends as far as the fashionable party hairstyles are concerned. Do so in style, as you flaunt that perfect hairstyle that meets the perfect combination of elegance and beauty.
In case if you happen to be worried about the grey strands, then add colours to the hairs with the no chemical organic hair colour that colours with complete care. Jazz up your looks with the all amazing organic hair colour as you style those envious tresses in an array of attractive styles.
Here are the top twelve best hairstyles to rock the party look in saree:
Loose Waves: All you need to do is get the hair curled and then the simple running of the fingers through the mane with help one get those soft and feminine waves in the hair. Dabbing a bit of mousse on wet hair, makes it easier to get the soft feminine waves for people with hair of a rough texture.
Fishtail Braid: Braids work well with sarees. A little of messy touches to the braid brings out the oomph factor in the most captivating manner.
Messy Buns: This is an extremely easy to make a hairstyle that gives one an extremely fashionable look. The imperfect messy bun can totally enhance your image and is among the current fashion trends of the contemporary times.
Bob Cut: Just a neat bob cut can rock the saree look provided you have the zeal to carry it off with style. A few streaks of highlights with the organic hair colour can add to the look in the most stylish manner.
Classic Cut: Just before an important party, there is nothing like going in for a perfect and chic haircut. If you have the confidence and attitude, then go in for a makeover with this classic hairstyle. This haircut works wonders for medium and short hair lengths and is completely hassle free for the said respect.
Blow Dried Hairstyles: If you have hair that is attractive enough then try out the simple blow dried style and wear the saree look in the way that spells grace, charm and simplicity and not to forget that simplicity is but the ultimate sophistication.
Neat Ponytail: Yes, add a touch of fusion essence as you wear the saree with the hair that is tied up to a neat ponytail. This simple and chic style can altogether add to the style factor in a fashionable manner.
Simple And Straight: This hairstyle speaks for the fact that simplicity is the ultimate sophistication. There is nothing like getting your medium or long length locks straightened for the purpose. The free flowing straight tresses when left open enhances the look with an exceptional elegance.
Dip Dyed Hair: Getting the hair ends coloured with a different shade of contrast with an organic hair colour can add that exclusive touch of style, elegance and that trendy touch to the saree look like never before.
Half Up Half Down Hairstyle: This makes for a favourite style amongst the ladies owing to its exceptional style essence. Doing it in a neat way with a hair accessory matching the saree can all together add that touch of glitz and glamour to put it precisely.
Glam Vintage Style: This classic hairstyle can never go out of fashion. All you need to do in order to achieve this look is to go for a side parting with soft waves makes for a gorgeous style of glamorous fashion.
Top Knot: Wrap up the hairs in a classic manner with a top knot that brings out high-fashion consciousness like never before. The top knot makes for a classic style that has rocked the saree look since time immemorial.
Opt for the organic hair colour and try out these different stylish hairstyles that are sure to help you rock the saree look for party purposes in a highly fashionable manner oozing grace, charm and utmost glamour.
---