15 Budget-Friendly Kitchen Renovation Idea to Follow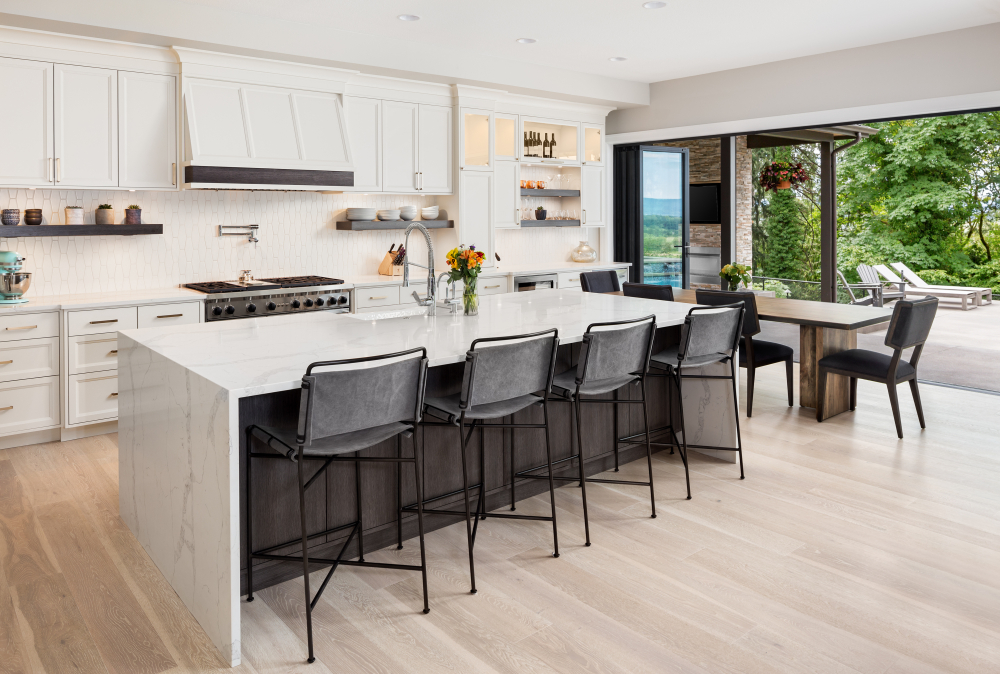 Your kitchen needs renovation to upgrade the look of the area. The kitchen is like a heart of your home. A little creativity and addition of a few things can change the entire look of the area. What? Are you worried about the cost? You don't need a big budget to renovate your kitchen. To help you with your renovation project, following are the fifteen budget-friendly ideas you should follow to renovate your kitchen:
1- Get A New Worktop
Have trust! Just replacing your old worktop will bring change in the look of your kitchen. You can choose laminate worktop as they are cost-effective. But if you have some extra money consider fitting heat rods as a pan stand or built-in draining board.
2- Do Paint Your Cabinets
Kitchen cabinet refacing is the best and economical way to give a new look to your kitchen. Pick a color depending on the background of your cabinets and preference.
3- Modernize Your Kitchen Floor
Is your kitchen floor a hurdle to give a fresh look to your kitchen? Well, you don't need to remove it all. Most of the kitchen designers suggest placing the new floor with help of plinths instead of attaching it with the wall. This approach saves your money. You can select the various types of floor material according to your own choice.
4- Feature Wall- A Useful Addition
If you are looking for a way to add color to your kitchen area, then wallpaper is the right thing for you. You can either cover your wall with wallpaper of your choice or you can create a feature wall. All this can be done at a reasonable cost but give a stunning look.
5- Refine your Kitchen Storage
Having more storage in the kitchen is the desire that can't be ignored. You need to check your cupboard to see which things are needed by you for everyday use. You can also clear up your worktop from unnecessary things to get more space. Manage your drawers and kitchen cabinets properly and you will get space without any cost.
6- Time to Change Your Doors and Handle
When we are looking for a budget-friendly kitchen renovation we don't need to replace the cabinets. If we just change their door or handle, it will create a huge difference in their look and in the entire area. You see with slightly small changes things appear different.
7- Sprinkle Some Lights
Sprinkling some additional lights in your kitchen area will brighten up the area. It will give a new look. You can add light to various area including the worktop or over the dining areas.
8- Don't Forget to Add Accessories
Accessories can give a different look to your kitchen area. To give a unique look, you can choose a theme as well that goes with your accessories. You can go for open shelving or reorganize your thing on your worktop to change the look of your house.
You can place your glassware, cups, and crockery on the dresser if you have it in your kitchen. You can search online to add different accessories in your kitchen or hire professionals to avail services regarding Cape Cod kitchen renovation services to enhance the look of your kitchen space.
9- Purchase New Appliances
Bringing in the new appliances to your home is a good way to refresh the look of your kitchen without changing your furniture. You need to remember two things. One is that they should fit well in the existing space and other always purchase energy efficient models, it will lower your electricity bills.
10- Get New Fabrics for Your Kitchen
Are you having old chairs and old tablecloths in your kitchen? It's time to replace them. Change the fabric of your chair seat cushion as well as of your table. You will see that your kitchen look has changed with a little investment.
11- Paint Your Kitchen Walls
Paint your wall to get a new look for your kitchen without putting extra burden on your pocket. Here's a quick tip you can get it done in one day. You just need to select a color according to your kitchen area. You either create an accent wall or paint all the walls by choosing one of the trending shades of the season.
12- Say Yes to Colorful Wall Art
Creativity has no limit. Having a colorful piece an art on your kitchen wall takes nothing huge from your pocket. It's just the desire that push us to create something unique.
13- Refresh Your Sink Look
Yes, you heard it right! Just changing your sink can give a new look to your kitchen. Here are some options that you can select when changing your sink. To get a country look you can go for white butler sink. For a contemporary feel, you can choose stainless steel. Furthermore, for a real look, you can select a distinctive copper. For any guidance regarding the selection of sink and other accessories, you can contact kitchen remodeling contractors for an expert advice.
14- Pan Rack-Solution for Storage
If you are facing storage problem in your kitchen, then the pan rack is a great option to resolve the issue. Invest in a large ceiling rack to place utensils and pan closer to your hand.
15- Vintage Furniture-A Good Option
Vintage furniture can be a good addition for changing the look of the kitchen. Here's a good idea! You can use old stools and decorate them with a row of stylish pendant light to make it an attractive breakfast bar.
Hope these ideas will be helpful and will assist you to get an attractive kitchen design layout. With little effort and creativity, you can change the look of your kitchen on a budget.
---