6 Low Cholesterol Recipes for a Healthy Heart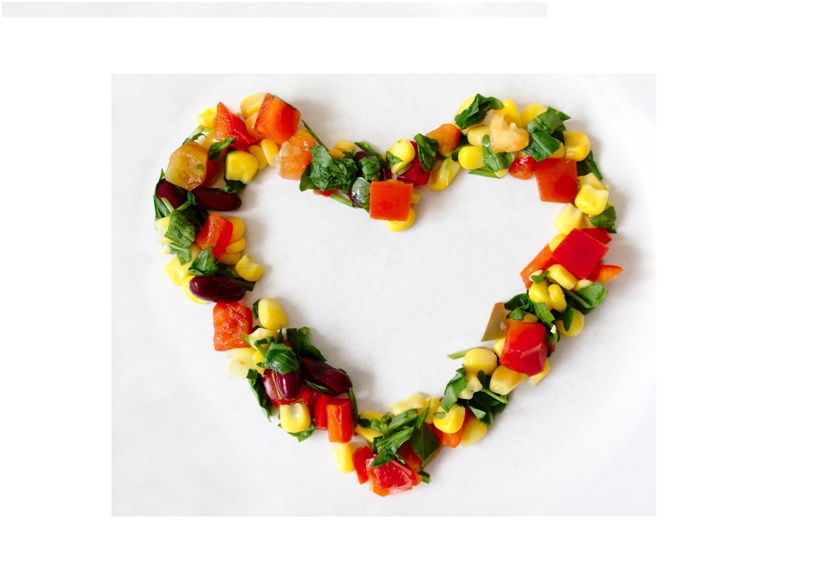 We have brought you 6 low-cholesterol recipes that don't just help you stay away from cholesterol but also provide your body with the necessary nutrition.
1. Beet Salad: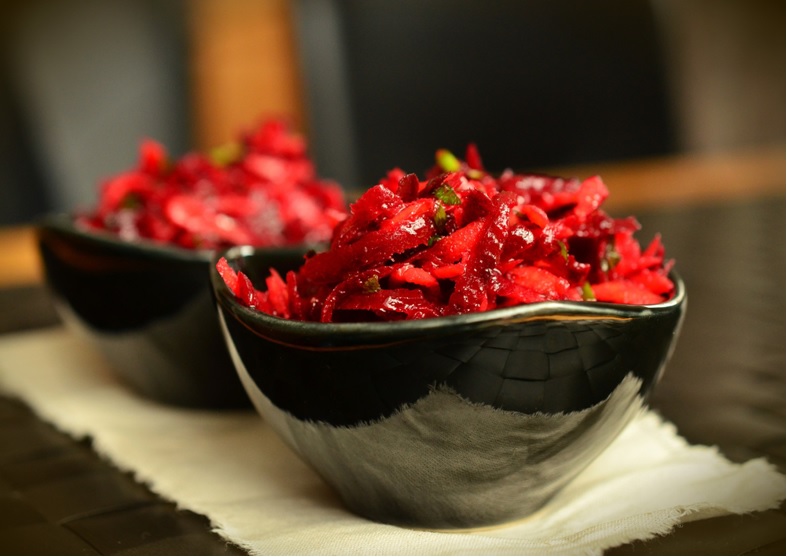 Zero Cholesterol Recipe.
Ingredients:
Ground pepper (¼ tsp);  Minced shallot ( ⅓ cup); Extra virgin olive oil (¼ cup); lemon juice (2 tbsp); Salt (½ tsp); 4 medium beets ( 2 pounds); Grated lemon zest (1 tsp); Chopped flat-leaf parsley ( ½ cup); Toasted slivered almonds ( ½ cup).
Process:
You need to spiralize the beets but before that clean and peel them. Once they are peeled you can use a spiralizer to get spiral beet. Then cut 3-inch pieces from the spiral.
Now store the spirals in a refrigerator for 2 days.
When you want to prepare the salad, get the spiral beet out of the refrigerator. Take a small bowl, now add the minced shallot to it. Next, add oil, lemon juice, lemon zest, salt, and pepper. Whisk it to prepare a mixture. Place it aside.
Now sprinkle the spiral beet with the mixture you prepared earlier. Then add slivered almonds and chopped parsley to it.
2. French Fries: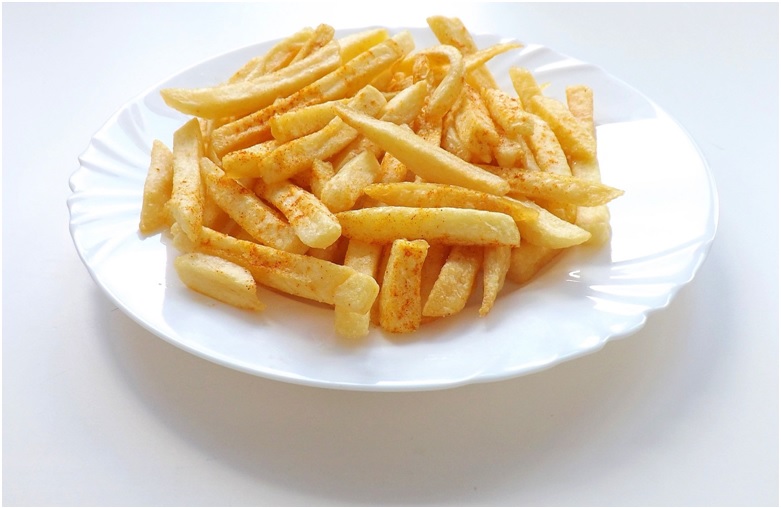 Zero Cholesterol Recipe.
Ingredients:
Peeled russet potatoes (2 ½ pounds); salt, garlic salt and onion salt (1 tsp each); All-purpose flour ( 1 cup); Paprika ( 1 tsp); Vegetable oil (1 cup); Water (½ cup).
Process:
Clean the potatoes and peel them. Then slice them into french fries. Soak them in cold water.
Now, heat the vegetable oil in a skillet on a medium heat. Now, sift the flour, onion salt, garlic salt, salt and paprika into a bowl. Add in some water till you prepare a mixture that you can use as a batter to dip the french fries.
Dip the french fries in the prepared batter and then place them in the skillet at a distance, so that they don't touch each other.
Fry them till they turn golden brown and then place them on paper to drain the oil from them.
3. Onion Rice: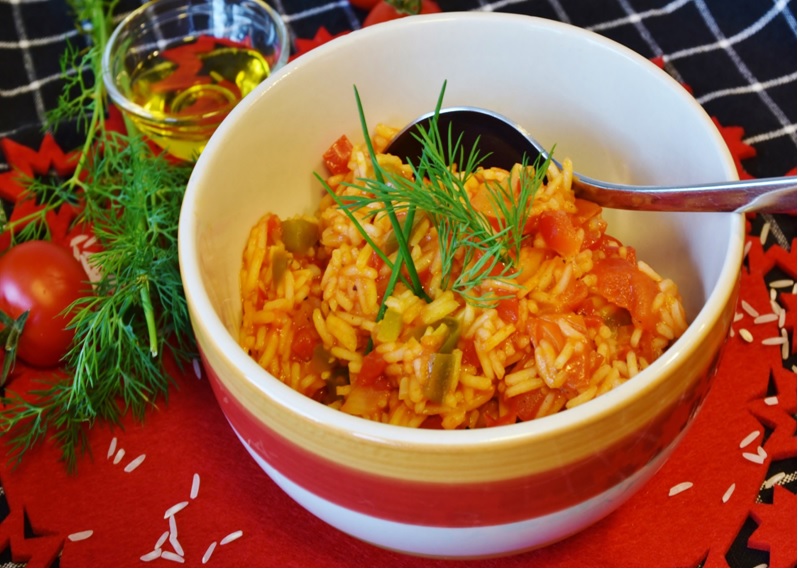 Zero Cholesterol Recipe.
Ingredients:
Vegetable oil ( 1 tbsp); Ground black pepper (1 tsp), 1 chopped onion; Chicken broth (2 cups); Long-grain white rice (1 cup).
Process:
Add oil to a saucepan and then heat it over a medium heat. Now add onion to the pan and then stir it till it almost becomes tender.
Add rice to the pan and continue stirring it till you coat the rice with the oil and onion.
Once the rice turns brown and the onion is tender, add ground pepper and chicken broth to it. Raise the heat, so that you can see it boil.
Now, reduce the heat. Boil the rice on low heat for 20 minutes.
Your zero cholesterol onion rice is now ready to be served.
4. Roasted Fish.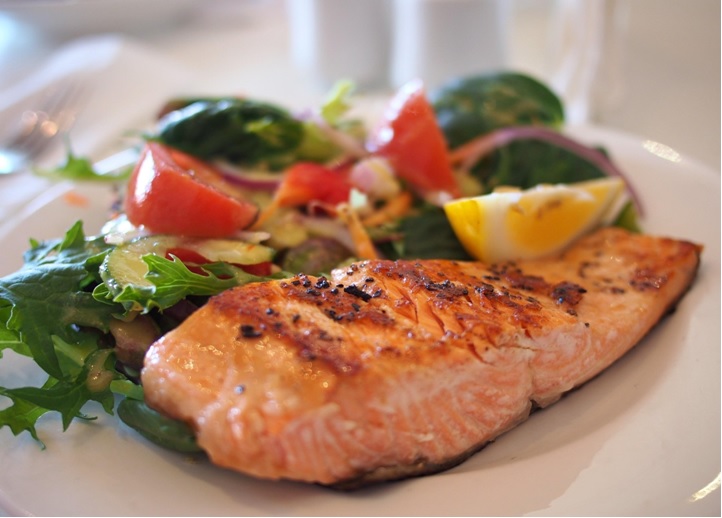 103 mg Cholesterol.
Ingredients:
Ground pepper for taste; Salt ( ½ tsp); Extra virgin olive oil (2 tbsp); Thinly sliced red potatoes (1 pound); Lemon juice (4 tsp) ; Mahi-mahi fish cut in 4 portions (1 ¼ pounds); Chopped parsley (1 tbsp); Minced garlic cloves (3).
Process:
Prepare a baking dish with a cooking spray. Heat up the oven to 400°F.
Add the red potatoes, minced garlic, oil, one-quarter salt and pepper to taste to the prepared baking dish.
Cover it with a foil and roast it for 30 minutes or until it's tender. You can check by piercing it with a knife.
Cut strips of mahi-mahi. Place these strips on the potatoes make sure that you place the skin side down. Sprinkle salt and pepper, parsley and lemon juice on it.
Now put it back into the oven and bake it for 10-15 minutes.
5. Lemon Cake.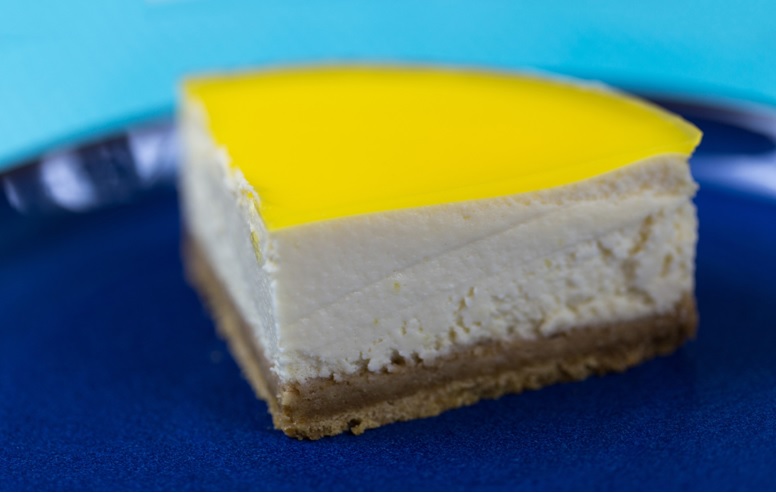 Cholesterol content: <1 mg.
Ingredients:
Egg whites (3), Water (1 ¾ cups), Nonfat milk (¾ cup), Lemon extract (½ tsp), 1 instant lemon pudding mix (3.4 ounces), 1 instant vanilla pudding mix (1 ounce) , 1 Package Yellow cake mix (1. 14 pounds) , Whipped topping (8 ounce),.
Process:
#Cake:
Prepare a pan with non-stick cooking spray and heat up the oven to 350°F.
Add lemon pudding mix and yellow cake mix to a large mixing bowl.
Now, pour in some the water and egg whites. Beat the mixture slowly for about a minute. Increase the beating speed by a little and maintain the same speed for 4 minutes.
Pour the mixture/batter in the pan coated with non-stick spray. Bake the batter for 30 minutes or use a toothpick to check if the cake is baked completely.
#Topping:
Now, take a large bowl. Add lemon extract, vanilla pudding mix, and milk. Now beat it for 2 minutes to combine the ingredients.
Gently add and mix the whipped topping with the mixture.
Once the topping is ready, spread it over the cake after it cools down. For better taste store the cake in the refrigerator and then have a bite.
6. Macaron.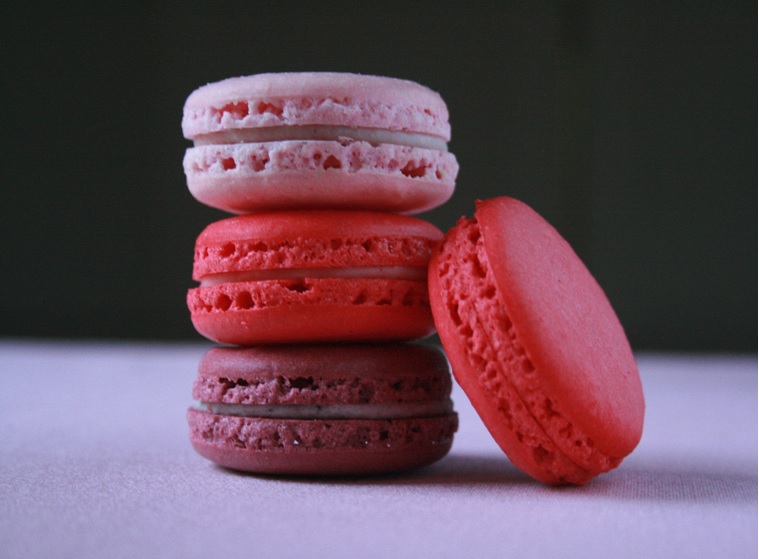 Zero Cholesterol Recipe.
Ingredients:
Egg whites (3); Confectioner's Sugar (1 ⅔ cup); Finely ground almonds (1 cup); White sugar (¼ cup).
You can use any filling for the macaron.
Process:
The baking sheet is to be lined with a silicone baking mat.
Next, use a stand mixer to beat the eggs whites till they turn foamy. Add white sugar to the bowl of stand mixer and continue beating the mixture till it forms soft peaks and turns glossy and fluffy.
Take another bowl and sift ground almonds and confectioners sugar in it. Now gently add and combine this mixture with the egg mixture. It should take about 30 strokes.
Now, put a little batter in a plastic bag with a small corner cut. Now try to do a pipe test and if instead of flat cookie if you get a soft peak then you need to give few more gentle strokes to the batter.
When the batter is perfect i.e. it will drop cookies instead of peaks you can place it in a pastry bag that is fitted with a plain round tip.
Once the pipe is ready, pipe the batter on the baking sheet in shape of disks. Make sure there is enough space between each disk. Leave it aside at a room temperature for 60 minutes.
Heat up the oven at 285°F, then bake the cookies for 10 minutes till they are set. They should not turn brown.
After they cool down you can go ahead with the filling.
Hope you have fun cooking these recipes.
---