7 Valuable Tips For Divorce Lawyer Selection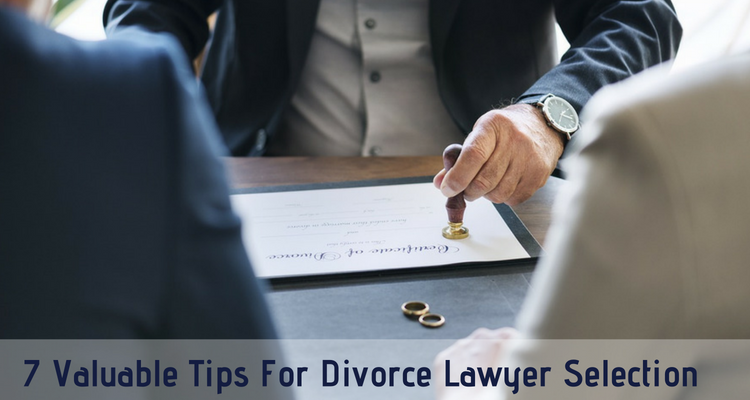 The irretrievable breakdown of a marriage leads to the decision of divorce by the estranged couple and with it starts the process of searching for appropriate legal help. Some invaluable tips for divorce lawyer selection are being provided here, that will be helpful in the identification of a competent professional who will provide advice on all related matters like alimony and division of assets. It is essential to be very careful while choosing a lawyer as the right person will help in getting the process completed in the shortest possible time without compromising the client's interests.
1. Plan A Budget For The Proceedings
Divorce proceedings can be long drawn out affairs and can put a strain on a person's finances. It will be wise to plan a budget that can be used towards paying for the legal services. Once an amount has been finalized, the choice of law firms or lawyers will obviously get narrowed down to those that fit your budget. Division of assets usually leaves both the individuals involved in the proceedings with lesser funds and therefore, it is sensible to spend the available resources intelligently. The nature of the divorce will also dictate the budgetary allocation as a mutually agreed upon separation does not require the hiring of a top lawyer but a bitterly contested case will necessitate an expert counsel.
2. Ask For Recommendations
A divorce is not just about a termination of a marriage but it also involves some very sensitive and matters like custody of children and division of assets. Asking your well-wishers and acquaintances for recommendations about some good and experienced professionals will be beneficial as it will save time. Approaching any lawyer specializing in a different field for a referral will also be helpful as will be getting in touch with someone you know who went through the same experience. It is always better to hire an attorney who is known to have provided satisfactory services to a person known to you, rather than engaging a completely unknown entity.
3. Check The Specialization Of The Professional
It is important to hire someone who has considerable knowledge and experience of family law as the complexities involved make the presence of a specialist necessary for the safeguarding of your interest. An expert will have information about all the latest cases that can influence judgments which will be helpful at the time of presentation of your case in court. A specialist who only handles divorce and family law cases will also be well equipped to advise you on all related matters like alimony or child custody and support. The expertise of such professionals will also come handy in quick resolution of the matter which is the foremost concern of most people going through separation proceedings.
4. Identify More Than One Lawyer
This is one of the most useful tips for divorce lawyer selection as a lot of people, with concerns of getting over with the process quickly, make the mistake of hiring the first professional they meet. Identify more than one attorney and try to compare and list the respective advantages and drawbacks of hiring either of them. This will also expose you to multiple views on the preferred approach for the case and help in making an assessment based purely on the skills of the professionals.
5. Prepare A List Of Questions
A common mistake committed by most people is to interview a prospective counsel without doing sufficient homework and regretting it later during the proceedings. Prepare a set of questions related to the most important aspects of your case as well as a few to measure the competence and suitability of the lawyer for it. Moreover, include some queries about the fees structure and other related expenses and request testimonials of previous clients. Most reputed lawyers in India provide these details willingly as a proof of their professionalism.
6. Research The Background Of Shortlisted Professionals
Conduct a thorough background check of the professionals that you have shortlisted by searching about them on the internet and asking questions related to their practice at the local bar association or any other similar forum. Cross check the client testimonials by getting in touch with people who had provided them and ask questions about the service, fees and the quality of advice given by the attorney.
7. Compatibility And Accessibility
Ask the legal professional about the manner in which communication will take place and gauge whether he/she is easily accessible or not as it is crucial to hire someone who pays the sufficient attention to your case. Enquire whether the attorney will personally handle your matter or designate someone else and if that is the case, then find out how compatible that person is with the chosen approach for your situation.
Conclusion
The ending of a marriage and ensuing separation proceedings can be stressful and agonizing for the people involved and engaging an appropriate attorney will help in a speedy conclusion to the process. These tips for divorce lawyer selection will be useful for any individual searching for a capable professional who can help in a quick and advantageous settlement of the matter.
Author Bio
Amy Jones has been the Labor law consultant at Ahlawat & Associates for 3 years. She is a passionate writer and loves to help peoples in all aspects of legal terms.
---