A Journey Through Varanasi, India's Holiest City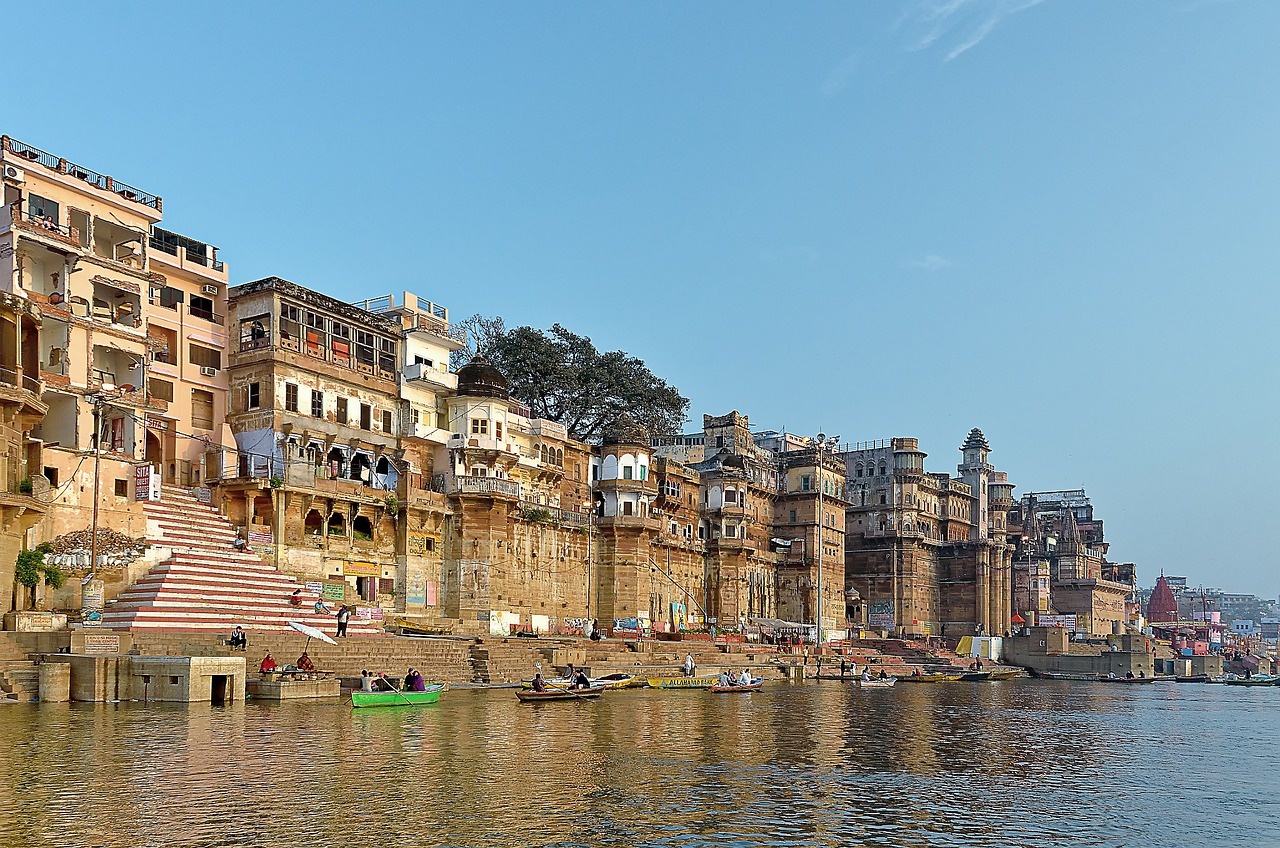 Varanasi is also known as Kashi or Varanasi is considered as the city of Lord Shiva. According to the belief, Lord Shiva present there every time. Lord Shiva is the God of creation and destruction. Varanasi is considered as the oldest city in the world. The city is on the banks of river Ganges.
Aarti is organized in the evening on every main river of the river. Varanasi is an industrial center today, the clothes of muslin and silk (silk), perfumes, handicrafts, and statues are very famous among the peoples. Lord Buddha started the beginning of Buddhism with Varanasi.
Attractions in Varanasi
Kashi Vishwanath Jyotirlinga
The most important of all religious places is Kashi. The temple was built by Queen Ahilyabai Holkar-Maratha Monarch in 1780. The temple is situated near the Ganga Ghat. Kashi Vishwanath Jyotirlinga is considered as the first Jyotirlinga of Lord Shiva.
Time to open temple: 2.30 am – 11pm

Mars Aarti: 3 am to 4 pm

Visible to: 4 am to 11 am

Enjoyment Aarti: 11:15 am to 12:20 pm

Visible to all: 12:20 pm to 7 pm

Evening Aarti: 7am to 8:15 pm

Srinagar Aarti: 9 pm to 10:15 pm

ShaynaAarti: 10:30 pm to 11:00 pm
New Viswanath Temple

       
The temple is also called Birla Temple. The temple is in Banaras Hindu University. The temple has been built according to the architectural art of the old Vishwanath temple. The temple is decorated with the teachings of the Gita.
Tulsi Manas Temple    
The temple is dedicated to Lord Rama. The Tulsi Manas temple is near the temple of Goddess Durga. It is believed that this temple is situated in the place where Tusli das Ji wrote Ramcharitarmanas.
Dashashmandh Ghat
Dashashmandh Ghat is one of the oldest Ghats in Varanasi. It is known for its religious atmosphere. Ghat, Kashi Vishwanath is just near Jyotirling. Shyam's Ganga Aarti is popular in the world.
Assighats
It is the center of faith here only under the peepal tree. The devotees visit Lord Shiva after a bath in the river Ganga. Eighty Ghats is located south of Varanasi.
Manikarnika Ghat
This ghat is the oldest ghat in Varanasi. According to the Hindu mythology, at this place, the earrings of Mata Sati had fallen while Lord Shiva was taking her to the Himalayas. The Ghat is also called Moksha Ghat. If the person's death or his final relation is in Manikarnika Ghat, then he gets salvation. Moksha means that one gets freedom from birth and death.
Durga temple
Durga Mandir is also called the Temple of the monkeys. The temple was built in the 18th century. The idol of Mata Durga itself was created.
Alamgir Mosque
The mosque was built by Mughal emperor Aurangzeb. It was believed that the old Vishwanath Temple was demolished and the mosque was constructed. The Masjid is situated on the banks of river Ganges. Alamgir Mosque is a great example of architecture.
Fort of Ramnagar    
Ramnagar Fort is situated on the other side of the river from Assi Ghat. Sunset is seen from this fort and the scene is very beautiful. The Darbar Hall of the fort has been turned into a museum.
Kalbhairav ​​Temple    
Kalbhairav ​​is considered as "Inspector of Varanasi", without his permission, nobody can live in Kashi. Kalbhairav ​​is the only Rudra form of Lord Shiva.
Must do these things in Varanasi
This experience of the River Ganges will be remembered throughout your life. Through the various Ghats and the former palaces on the banks of the Ganges, you give an opportunity to see Hindu rituals. The best time of boat ride on the river Ganges is morning and evening. From 5:30 in the morning to 8 in the morning, there is a good way to see the sunrise and especially during the arti, boat rides are spectacular.
There are more than 84 Ghats in Varanasi in which stairs are built and people can enjoy bathing. People also pray to please Mata Ganga.
Visiting sunsets, with ghats
Walking on the ghats during sunset is a great experience. Discovering the Ghats is one of the best things in Varanasi. There are bath ghat, prayer ghats and cremation grounds for Hindus around the world.
Evening Arti on river Ganges
There is no such an enjoyable experience than evening Arti on river Ganges; Mata Ganga's Arti will make you mesmerized. Mata Ganga's Aarti is accompanied by beautiful rituals and mantras. Aarti is organized every evening at 6:45 pm.
Visit Sarnath's sightseeing
Sarnath is one of the four sacred Buddhist sites. Sarnath is located at a distance of 12 km from Varanasi. Sarnath is a popular holy place because this is where Gautam Buddha first taught religion.
Vindhyachal, it is one of the 64 Shaktipeeths. There is a beautiful place to stay. 60km away from Varanasi is only. The philosophy of Shaktipeeth of Mother Sati gives peace to the mind. You can also see Chandra Prabha Sanctuary, Chunar Fort and Jaunpur.
Shopping in Varanasi
Varanasi is the world famous for its handwork. Banarasi Silk's sari, you may have got a good chance from here. The weaving of silk is the most popular part of Varanasi. In addition to Banarasi sarees and brocade, Varanasi can look for brassware, copper utensils, wood and clay toys and great designs of gold ornaments.
You can shop at Varanasi at Chowk, Gyan Vapi, Vishwanath Gali, Thathari Bazaar, Lahurabir, Godaulia or Dasasvamedha Street and Golagala. Mirzapur's hand-woven carpet, musical instruments are also one of Varanasi's other attractions.
Varanasi food
Varanasi's food gives him a different identity. Like other Hindu places of worship, it is a restaurant but small shops in the streets give you a different experience.
Famous snow cones, roasted peanuts, delicious chat items such as copper licking, water puri, trash, potato Tikki, various types of sweets such as Jalebi, Banarasi Kalakand, Rabri, etc. No one will be able to get Benares soon. It is always said that Benaras came and did not eat paan, so what did you eat?
How to reach Varanasi?
By road – Varanasi can easily be reached from all parts of the country. State-run buses, private air-conditioned buses also run on the road. In addition, cabs ensure hassle-free travel.
By Train – Varanasi Junction Railway Station, Pt. Deen Dayal Upadhyay Junction
By Air – Lal Bahadur Shastri International Airport
Conclusion
Varanasi has a different place in Hinduism, one of the most sacred cities. If a person's death or his final relation is in Kashi, then he gets salvation. Salvation means that a person gets freedom from birth and death. In Varanasi, all the sins of dying in the holy river Ganges from the Hindu religion are dashed as these people believe in it.
Author's Bio
Lysha works at Lalco Residency – Service Apartments In Andheri West. Along with her regular job she is very passionate about writing blogs. In her free time, you can see her reading various novels and magazines. Also, she has very good leadership skills and also helps her clients. You can catch-up with Lysha at Lalco Residency in Mumbai.
---