Most Appetizing Indian Starters for Your Wedding Reception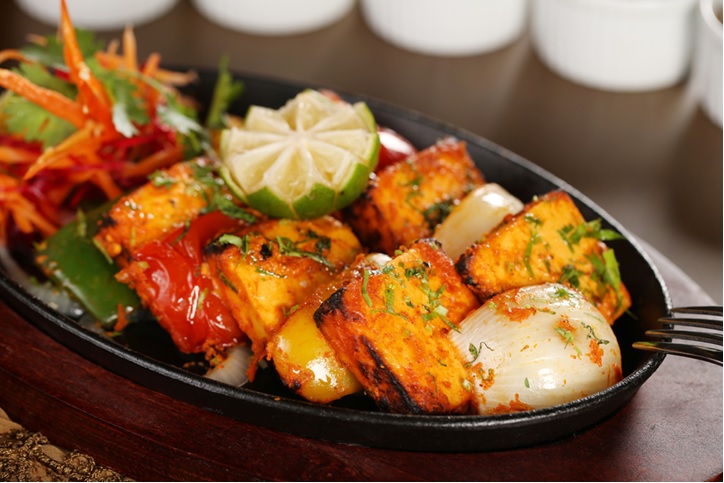 An Indian wedding is a big affair and a really hearty one. It is for the ones who have a big heart and a big tummy not just to take all that the Indian weddings have to offer but the large palatial food spread as well. Most Indians prefer to keep classic Indian dishes at their wedding. The reason behind this varies from people to people. Mostly they want to pay homage to their Indian culture, and also to introduce the culinary traditions to their non-Indian friends, as they celebrate weddings in the best banquet halls in Mumbai.
When it comes to wedding food, the first thing that comes to our mind is starters. The starters are the foremost thing, which is served to the guests. Admit it; you slyly peek into the pantry or the menu, to see what is in store for you that you can grab your hands on! With food occupying such a big place in the Indian human analogy, it's time to decide the Indian starters that you too should include in your wedding if it's just the next best thing in your life. Here's a look.
Samosa
Samosas are popular in every household in India and when served with different stuffing, we bet your guests can't escape by just taking one piece. Unlike the typical Indian samosas, try the baked rather than deep-fried for a healthy, light result. A lot of people today go for the crisp filo pastry parcels that contain a curry-spiced vegetable filling.
Bhelpuri
Bhelpuri can just never go out of fashion and is a must to be included in any wedding starters menu. Bhelpuri is loved by all age of people in India being a mixture of dry rice, Sev, fried pastry crisps, diced potatoes & chickpeas and richly flavoured with sweet tamarind sauce & chilli and coriander sauce. Spicy and tasty and lighter in weight, Bhelpuri is a must to be included to amaze your guests with your hospitality.
Chilli wings
Crisp and spicy in taste, chilli or chicken wings are common but popularly used as Indian snacks for the party. Chicken is loved by all and when dipped in spicy batter, it tastes 100 times better. Chicken wings are marinated in special sauce and are deep fried. This mouthwatering dish will please your guests to the core. For some people who cannot wait till the time main course is served, chilli wings will be apt to satisfy their taste buds.
Dahi Chaat in Ramekins 
You can serve chaat of your choice in ramekins which are mostly used for desserts and all kinds of tiramisus to give a distinct plating style. Dahi chaat is a favorite street food and it is a starter which simply can't be taken away from any Indian wedding starter menu. A nice way of presenting this with a twist is, by serving it in ramekins and giving a new look to this gorgeous starter. These ramekins will make them look so understated and cool and your Dahi chaat will be a total hit amongst your guests.
Steamed Momos
Momos are a hot favorite not just in weddings but also as one of the most widely eaten street foods across India. Steamed and available in a variety of flavors, these are healthy as well as full of flavours and are juicy.  These can be filled with any minced meat as well for non-vegetarians who love their meats. Served with a fiery Sikkimese Tomato Chutney, these are simply heavenly in taste.
Aloo and Dal ki Tikki
Tikkis can just be enjoyed throughout the year. Served in a hundred different ways across India, simply ask your vendor to serve them in a unique way at your wedding. Bite-sized and absolutely divine, these crisp potato and channa dal ki tikkis will surely have people line up in queues to grab a bite of them at the first go! Don't forget to make a note of this in your wedding menu checklist.
Kakori Kebab
These Lucknowi Kebabs are nothing short of a celebration of meat and one of the most widely enjoyed Indian starters. A street delight and one with a royal touch, these kebabs were a must to be included in the ancient royal feasts.  They'll have your party off to an impressive start. Just spruce them up with some chaat masala and fresh mint chutney and let people enjoy the juicy and succulent kebabs.
Bhajiyas
How can Indians stay without Bhajiyas? Whether its onion bhajiyas, potato bhajiyas, cauliflower bhajiyas or pineapple bhajiyas, these satisfy the Indian taste bud as nothing else can. Also known as Pakoras, these are the perfect quick party snack. You can make them with any vegetable you like and serve with any exotic chutney at the wedding menu.
Chicken tikka
To get a knowhow of this starter's recipe -Tender chicken chunks marinated in special spices and then grilled on skewers, chicken tikkas are deeply relished by all non-vegetarians.  These tikkas are smoked to perfection before being served to guests at the wedding reception. Spicy, full of flavor and highly recommended, these are sure to have your guests wanting for more and more if they are made with all the love.
Paneer tikka
An undisputed champion of starters across India which never fails to appetise is the gorgeous and ever so lovely "paneer tikka"! One of the finger licking starters not be missed at any wedding, paneer tikka is one of the most widely eaten foods not just at Indian weddings but also at Indian homes! People just love to gorge on these amazing tikkas and enjoy its aroma immensely as these are grilled on the tandoor and smoked to give them the rich texture and flavor.
Vegetable Jalfrezi
Vegetable jalfrezi is a healthy vegetable dish for those who prefer lighter snacks. These fresh vegetable pieces when shallow fried in a jalfrezi sauce will bring a bright smile on your guest's face and that expression is priceless. As a starter, it looks tempting and we are sure your guests will be amazed after getting such appetizing food to eat at the next wedding in your family.
Booking a caterer and then planning a menu is always a tedious task for any wedding, whether it is an intimate or a grand one. Often, the most difficult part is selecting a few items from a list of literally hundreds of dishes! For example, when it comes to starters, the best caterers have more than 50 options to choose from, and you might just want to pick between five to ten, so make sure you make a wise choice by taking our cues from here.
---
---