Benefits of Using Exposed Aggregate Concrete!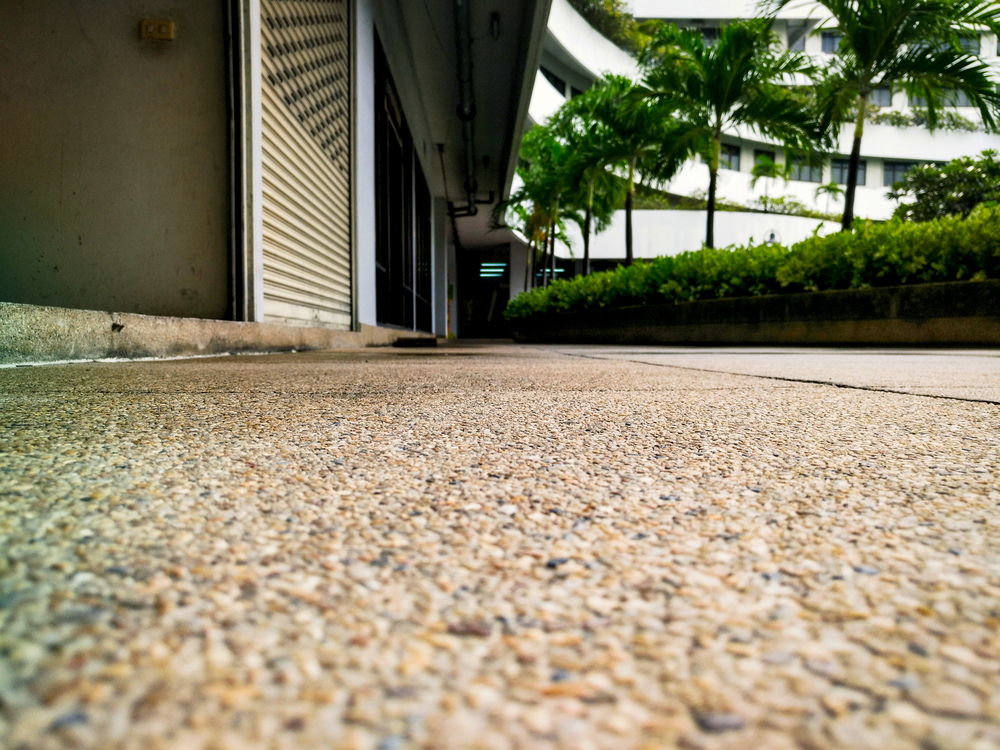 With the advancement of technology has become a favorite choice of many homeowners. It is mainly utilized for patios, sidewalks and driveways. The main ingredients of this concrete are pebbles, stone and sand that help to craft a distinctive look.  Surface stripping and seeding is done to exposed aggregate concrete in order to create t designs and patterns.
Top Benefits of The Usage of Exposed Aggregate Concrete
If you are planning to carry out some home improvement project, then considering exposed aggregate concrete can be a great idea. This type of concrete offers many benefits apart from just amazing look. Few of these benefits are mentioned beneath:
#1. Endurance and Hassle-Free Customization
Exposed aggregate concrete is highly durable compared to other concrete options. It can sustain heavy weight and hard weather conditions which makes it a durable choice. Hence, it is the best choice for your home garages, driveways and parking area. For this kind of concrete, you can use different materials which can help in creating unique designs. Also, you can alter them for forming a new pattern. There are innumerable choices of colors and texture available to choose from. This makes it possible for you to create a beautiful and unique surface as per your preference. Furthermore, this aggregate being a strong and sturdy option it is most suitable for patio, sidewalk or driveway. It is created in such a manner that it can sustain heavy traffic without causing any damage or strain to the floor.
#2. Effortless Installation and Maintenance
Installation of this kind of concrete is very simple and fast. To complete the installation process exposed aggregate concrete requires very fewer materials and tools. Hence it is cost effective too. In addition, it does not require much maintenance. Regular cleaning is enough for maintaining it well. In order to maintain the aesthetic appeal of the floors or driveways made by this concrete, in the long run, one can opt for sealing it in a five years interval. Hence, most of the contractors consider it as the most practical option today.
#3. Eco-Friendly Option with Variety of Choices
Exposed aggregate concrete can be prepared by using different kind of recycled materials which also includes industrial by-products such as slag. This concrete can also be reused for asphalt roadways or other concreting projects. There are numerous choices available when it comes to this kind of concrete. You can choose any combination of pebbles and stones to create a design statement in your outdoor space. Also, you can use different colors for creating a contrasting effect.
#4. A Practical Cost-Effective Safe Option
Exposed aggregate concrete is non-slippery material which makes it an extremely safe option for elderly people and children. It is the material that offers a natural looking pathway which requires very less or no maintenance. You just require doing the regular cleaning to keep it clean and hygienic. Also, you do not have to worry about the formation of any kind of moss or weed. Hence it is one of the most practical options for the homeowners. It is one of the most cost-efficient choices available today. This is because the materials needed to get the job done are easily available in the nearest stores at very less price. On top of that, if you have some commonly found stones in your backyard you can use them.
In case you have decided to use exposed aggregate concrete for your home outdoors then start researching on it today. For carrying out this process you will require professional help. You just need to select the best professional and best materials to get the best job done for your outdoors. Hence, before going ahead make sure that you research well and select the best professional for creating a unique pathway.
---