Best Content Marketing Strategy for Your Newly Designed Website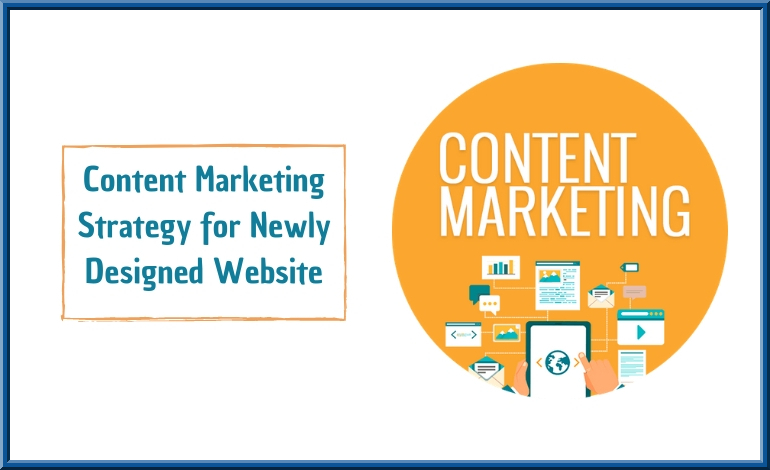 You have just become an entrepreneur and like all new businesses, you are most likely to have created your new website. You would have put in great efforts to design your website and now it's time to start getting some content published on it. But, before you do that, have you thought about what you are going to do with that content? You need to plan and have a content marketing strategy to get the best results from your hard work. You need to figure out what kind of content you should have, where you should post it, what are the best channels for it etc. Read on to find out the best content marketing strategies for your newly designed website:
1. Have an End-Result in Mind
If you are sure of what your ultimate goal is, it becomes easier to work out the content marketing strategy. You can then figure out whether a particular step will be constructive, destructive or neutral to reach the desired result. Remember that each step in your strategy should serve a purpose. It could be a stepping stone or it could be the final leap.
2. Do a Comprehensive Research
Now that your content has a purpose, you need to work out how it is going to fulfil it. You need to understand who your target audience is, what they look for and what their sources of information are. These would answer important questions for you in terms of: What kind of language should you use? What keywords should you use? Where should your content finally exist? These are the keys to your content marketing strategy.
3. Make a Time Plan for Publishing
It is probably best not to have a random batch of information going on the website. A quarterly or half-yearly planning of events can be done in advance. Different strategies could be laid out according to the time period:
You could decide on the type of content that needs to be released at a particular frequency.

Different events and occasions will require a certain kind of content to reach out to your audiences.

The content marketing strategy at a particular time should resonate with your business strategy for that time span
4. Create Relevant Content
After you have done your research and identified the key elements, you need to start working on the content. The formats can vary as there is a lot of scope to experiment. There are also various resources to get content delivered to you. With all this said, there are a few elements that you would need to take care of:
Speak to your audience directly in a language they understand.

Let the essence of your organization shine through. Show your strengths.

Let the content design vary according to the channel it is going to be released on.

Be clear in your message.
If you are planning on new content, create it with the above points in mind. Keep it focused and supportive of the business plan objectives. Other than creating new content, you can look at some older content that you might have with you. Refurbish it as per the current scenario and update it with the latest information.
5. Get a Team Together
Consider the creative team for your content as an important part of your strategy. It should include content writers, photographers, designers, web planners and many more. A few pointers for working with the team:
Brief them clearly on the concept and design for the content.

Do not overload them. Manage the flow of work to get the best creativity.

Metadata can be used by your web developers for wrapping up the content with the help of search engines along with HTML5.
6. Plan the Distribution
Once the content is ready, the next stage is to decide the platform on which it should be released. It is a very critical step and should be dealt with utmost sincerity. In fact, this should be decided beforehand when you are deciding the format of the content.
Decide on the platforms you would like to use. Have them on your time plan with a schedule set for each. Some of the channels that should not be missed out are the conventional public relations and blog posts. Have a link for your content on each of your brand's social media page (in particular Facebook, Instagram, Twitter and Google+).
7. Track Your Results
Turn your site into a powerful lead magnet by creating opt-in offers that are related to the content on the page. It's nearly impossible to convert random visitors into buyers the first time they land on your site. But you can convert them into leads. How to Turn Your Site into a Powerful Lead Magnet.
Combining the efforts that you have put in with the timelines and the goals, are you able to achieve what you had set out for? That is something very important to know. If you do not know the outcome of your efforts, you would not know whether your strategy is a success or a failure.
Make a note of the benchmark and track the growth of your brand against those. Look at the graphs for various parameters. If you are not getting the desired results, change your strategy while you still have time. Of course, long-term decisions are not taken based on short-term tracking. For this purpose, distinguish between the two and track accordingly.
Endnote:
Content marketing strategy is the key to the world of successful businesses. The above pointers should be kept in mind in order to design a profitable strategy
Author bio:
Micheal Anderson is working as a digital marketing expert with the well-known SEO company in Chennai. He has more than 5 years of experience in the industry and likes to share his articles on various online marketing services.
---
---