How Your Condo Management Company Can Foster a Condo Community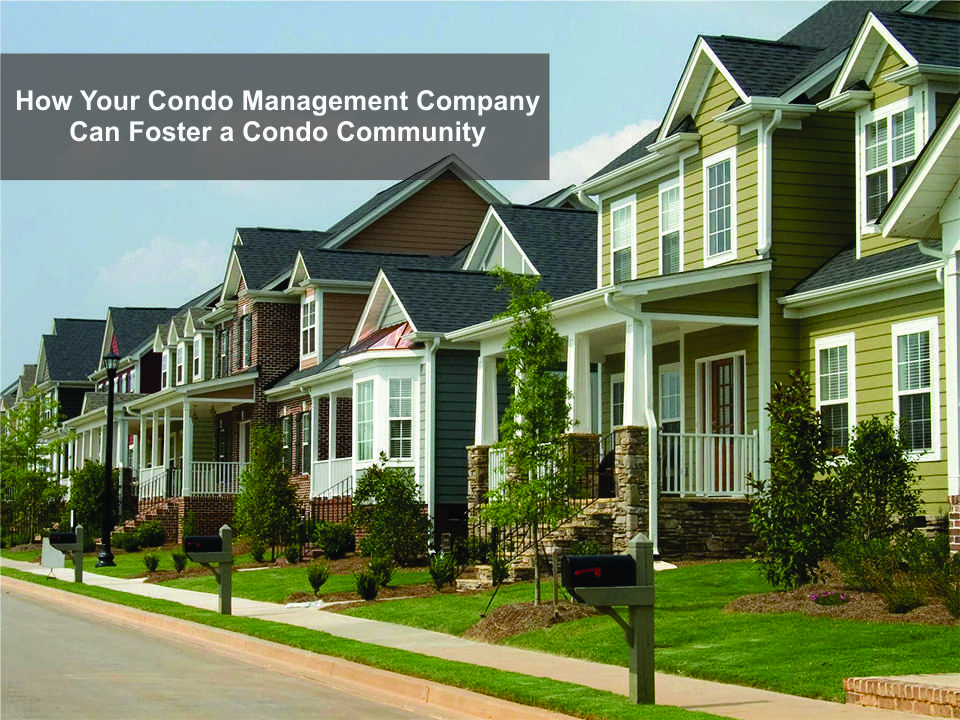 A vibrant community life isn't just for quaint cul de sacs. Your condo building holds all it needs to create a community between your units. A great place for your condo board to start is to organize inclusive events within some of the common areas around the complex and to find ways of sharing these spaces that will create feelings of community and belonging. The  Planning some recurrent "come-one, come-all" styled events is a great way to start off 2018, and, as a condo management company who believes in building community, we've got some helpful tips to make sure your next communal get-together is a smash.
Setting the Scene
Common areas in condo buildings are often fairly non-contentious spaces, and typically aren't discussed with the same fiery passion as noise complaints, reserve fund studies, and other, more controversial condo issues – but that doesn't mean that they don't deserve their day in the sun! These spaces still need to be managed, maintained, and looked after properly, or they'll be just as big a headache as any other ill-organized aspect of condo living. To clarify, we're not referring to spaces like parking garages and front lobbies, but rather, any area that people gather in or share as a community, such as outdoor green spaces, fitness centres, swimming pools, or even elevators (especially during those move-in/move-out days).
Also, communication is one of the loophole found over many communities. Make sure that community members raise their voice for any decision to be carried out and condo management must work efficiently which suits all the members.
In order to ensure these spaces bring people together and don't force them apart, it's good to have a few systems in place.
For spaces that can be reserved (community rooms, elevators for moving, etc.), there should be a central booking system that operates on a first-come, first served basis, with rules for how to use the space and expectations regarding how it should be left for the next group or gathering (lists of rules go a long way, as do clean-up checklists). Also the questions regarding security, entrance, gym, etc. And their responsibilities are to be segregated by forming appropriate bylaws framed. Make sure that majority agree with the same and ultimately helps to foster condo management.
For open-access areas that can't really be booked (pools, gyms, etc.), your board can still create a set of rules for day-to-day use (e.g. time limits, clean-up rules), but it will be up to residents to honour these guidelines, with management and cleaning usually hired out by the board itself. Transparency of rules discussed, when people sit together will make a positive approach toward your condo living.
Many boards actually make it clear to residents that complaints about the facility – or other users – are meant to be directed specifically to the condo management company in these instances, so that any uncomfortable conversations (about, say, fitness centre hygiene or etiquette) can be handled by an objective third party, rather than the board member who lives two doors down. This will result in a better as the management company have more experience as well as the expertise to handle it with care.
If You Plan It, They Will Come
Now that all the nitty-gritty details regarding common space management are out of the way, there's nothing left to do but start planning some great events that will get people together! When it is about common space management first thing is to take of the bylaws framed by the condo management with the concern of all the members. These are a some  of the tried-and-true suggestions if you're in search of a leaping-off point:
Community garden. This is a great way to bring residents together and create a pride-of-ownership in the complex as a whole. Not only will you be able to plan multiple seasonal events around a community garden, but it will brighten and beautify the building for everyone! And not only planning but listening to the feedback is equally important after any seasonal event. An internal bond between condo owners will be raised with it.
Annual owners' get-together. A great way to strengthen the community, foster friendships, and help people feel more at home. Also, events like ice-cream nights or social games can work. These sorts of events often lead to lasting connections and cause residents to look out for one another and their neighbours' units just that much more, which is always fantastic to see.
Clubs, clubs, clubs! Finding common interests within your complex and building communities around these passions and hobbies is always a great way to bring people together. Whether it's a book club, a yoga club, or even an Ultimate Frisbee club, it's always a positive thing for your condo to have people coming together, laughing, and having fun in communal spaces.
In our experience, common areas are often some of the most under-utilized spaces in a condo building, but nearly always hold enormous potential for building community. Having lifestyle programmes at such place will establish spirit. Take advantage of these spaces to bring together the residents in your building, and you'll start to feel the bonds of friendship and trust grow in your complex almost immediately. This will make residents feel pride and will form an unbreakable bond between each other that can't be easily shaken. Condo management companies play a vital role to build community and foster your condo unit. If you're looking for ideas on what sorts of events to plan or have concerns about how to maintain and regulate common space usage, join the   Facebook group, where you'll find all sorts of other local condo owners to connect and share ideas with.
Author Bio:
Drew Spencer have huge experience in Condo management in Calgary. He also suggests that condo communities should select experienced and accomplished management service that focuses on improving efficiency and increasing cost savings. He believes that all the condo association, whether small or large, must be managed by a professional company and should maintain high-quality standards.
---
---