Do's and Don'ts of Digital Marketing to Consider in 2019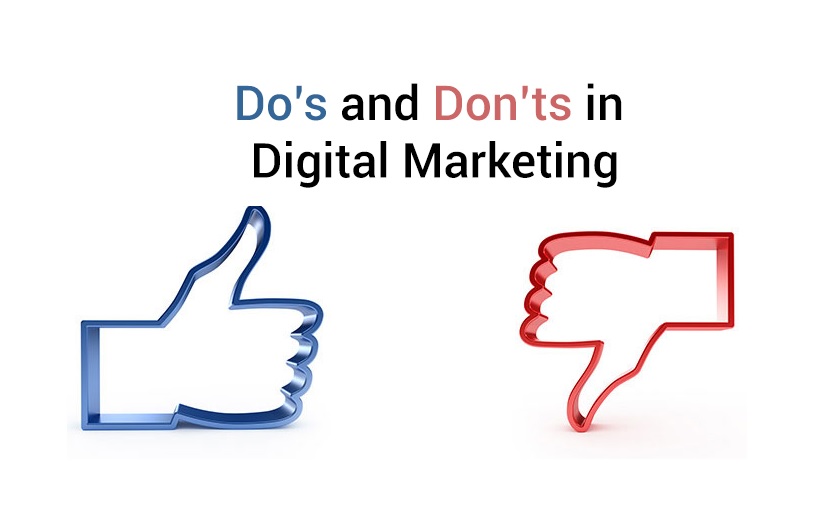 Digital marketing is evolving day by day. At times, it only included radios and other electronic media platforms, but with the advancements in internet and mobile technology has introduced various innovative and effective mediums.
Now, it may start with search engines, social media, and forums, and may lead to a number of digital advertising networks. For some businesses, social media is a key player of their entire digital marketing strategy, whereas, for others, the search engines may be the sole bread earners.
The reason you prefer any of the medium or taking a mix of all depends on the business you initiate and the audience you need to reach. For your assistance, I am listing some of the Dos and don'ts of digital marketing that are significant to consider in 2019. Have a look at them to take your marketing on the right track.
Do's
1.      Do Own a Business Blog
A blog right in your business blog proves to be your reporter and business development agent. The information that you need to circulate about a product or service can easily be published in any format that you are comfortable with. A business blog of your own gives you the freedom to announce any news story that may directly or indirectly promote your products. So, you don't have a restriction on content marketing. 
2.      Do Assure an Easy Website UX
All your digital marketing efforts may fade away if the users find difficulty in browsing your website or online store. So, before you start on any promotional campaign, you may need to evaluate and refine your website design for a better user experience.
3.      Do Personalize Buyers Journey
Your potential buyers may land your website either through a landing page or blog-post. Be sure to personalize their journey towards becoming a buyer by putting lead magnets in the shape of valuable content, discount coupons, or giveaway. Let them subscribe or sign-up at least if they are not ready to buy products or avail your services now.
4.      Do Select Right Channels
Digital marketing is more about the selection of right channels for you rather going for the most popular ones. For example, Facebook and Twitter are must-have social media networks of a digital marketing strategy, but you may need to look into other platforms that may bring higher returns for your business.
LinkedIn is preferred the most when it comes to promoting products of a B2B model. In the same manner, the businesses that deal in art and craft, and DIY projects may get more traction on Pinterest and Instagram rather the conventional mediums.
Don'ts
1.      Don't Sacrifice Content Quality Over Quantity 
A business blog helps you build authority in your field. Keep it relevant to your business news and stories rather than publishing anything of your personal interest.  Do not prefer the quantity of content that you produce, acquire or curate for the blog. Have quality standards and stick to it, so that your content gets circulations and mentions across the web.
2.      Don't Forget or Overdo Email Marketing
Email marketing is one of the effective promotional tools if the intended buyers are reached out with the right offers at the right time. Do not ever ignore the effectiveness of converting your subscribers and users into customers, or existing customers into repeat clients. Email marketing has a higher conversion rate. However, keep the frequency of emails to a minimal limit as overdoing it may make the users unsubscribe.
3.      Don't Hard Sell Your Products
You might have observed merchants and online sellers calling users on their websites to get the product without putting detail to it. They neither focus on describing the product on landing pages nor sharing its features list in detail on social media. This makes them do the hard sell.
Do not push users on your website or social followers for purchases. Instead, describe every bit of the product you have to offer along with the benefits and practical implications to make them crave for the products.
4.      Don't stick to Facebook alone
Digital marketing includes an ocean of tools and mediums, where you can exhibit products and grab the leads. The most prominent of them are social media, search engine, and paid advertisements. However, few of the merchants stick to organic or paid promotion campaigns on Facebook.
You do not need to put all your efforts into a single platform. Try exploring more where your target audience relies upon like discussion forums, question and answer platforms.
Conclusion
There are endless platforms and strategies to adopt, but when you intend to make the most of the digital marketing, you need to be vigilant in selecting or abandoning any of the techniques. On the safe side, you may need to keep a check on your strategy so that a positive or negative impact can be traced and account for in time.
Author Bio:
Hamza Riaz is an experienced Digital Marketing Expert. He is currently working for FME Extensions, a company that develops extensions for popular shopping carts like Magento, WordPress and WooCommerce.
---