How to Fix Wi-fi Problem in iPhone X (7 Methods)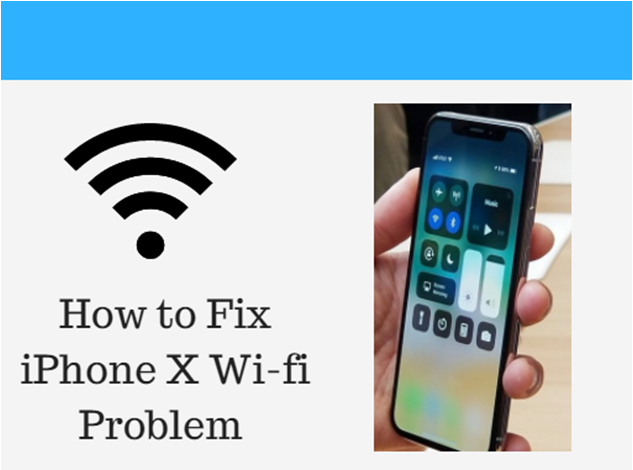 Hey Guys, Welcome to in this post I will share ways to fix your iPhone X wi-fi problem. Smartphones seem to be lifeless without the Internet. Sometimes things can look perfectly fine and even your Wi-Fi can show a strong signal, but your apps do not work.
There are different types of Wi-Fi problems that one might encounter such as the connection that continues to fall, slow Wi-Fi, unable to connect to Wi-Fi or gray Wi-Fi settings. Here are some ways to solve iPhone X Wi-Fi problems.
Solutions to fix iPhone X wi-fi Problem:
Method 1: Via Wi-fi Router
If the first method didn't work then try to power off & power on your wi-fi router. there may be changes. Make sure your wlan is connected properly to the router
Method 2: Reset Network Settings
In addition to clearing network information and DHCP settings, this step also removes caches. Most Wi-Fi problems are solved with this simple process. Here's how you can reset your network settings for iPhone X.
Settings> General> Reset> Reset Network Settings – tap this option.
Method 3: Disable Wi-Fi Network Services
This step also helped several users to solve Wi-Fi problems. For this you need to go to:
Settings> Privacy> Location Services> System Services> Wi-Fi Network – disable this option.
The Wi-Fi network is not related to Wi-Fi and only concerns location services. Your Wi-Fi will not be affected if you turn it off.
Method 4: Force Reboot
A forced reboot helps fix the problem of a down connection and fixes iPhone X Wi-Fi issues. Apple has changed the way you force or restart the iPhone X. Here's what you need to do:
Press the Increase Volume button and release
Press the Volume down button and release
Now, hold down the Side / Sleep / Wake button and wait for the Apple logo to appear before releasing the button.
The Volume Up and Volume Down buttons must be pressed and released quickly.
Method 5: Forget Wi-Fi Network & ReConnect Again
If you receive continuous prompts that you have entered an incorrect password, try to forget the network, and then reconnect it again. Follow the steps:
Settings> Wi-Fi> Tap Wi-Fi and select Forget this network when you get the prompt
Exit the screen and wait 10-20 seconds. Now go back to
Settings> Wi-Fi> Select the network, and enter the password> Join the network
This can solve your Wi-Fi problems.
Method 6: Setup Custom DNS
Sometimes, there may be a problem on the DNS server. You can try switching to Open DNS or Google DNS. Here's what you can do.
Go to Settings on your iPhone X
Now go to WiFi and locate your connection and press the "i" icon next to it
Scroll down and see the DNS section, then tap the number next to it
You will now be able to enter a new DNS address.
For OpenDNS, you can use
67222222
67222220
For Google DNS, you can use
8.8.8
8.4.4
There are other DNS available, and you will need to use a third-party tool to find the one that suits you best.
The above solutions are easy to follow and will help you solve iPhone X Wi-Fi issues.
Method 7: Check if there is any problem from your ISP side
Make sure you don't have the internet problem from your ISP side because most of the time the users think its there phone/Device problem. Try connecting your another device and check whether it is connecting or not. If it's not connecting then it's your ISP problem
Conclusion:
I hope you have successfully fixed your problem via this iPhone x wifi fix guide. most the time the solution or wifi problem is the above-mentioned solution. If you have successfully fixed your wifi connectivity then please do share through which you have fixed the problem so that others can try and fix there a problem too. Feel free to share your experience about this iPhone X wifi fix. Also, do share this post with your friends & family who are facing the same issue like you.
---
---