Inside The Blooming Business of Floret Farm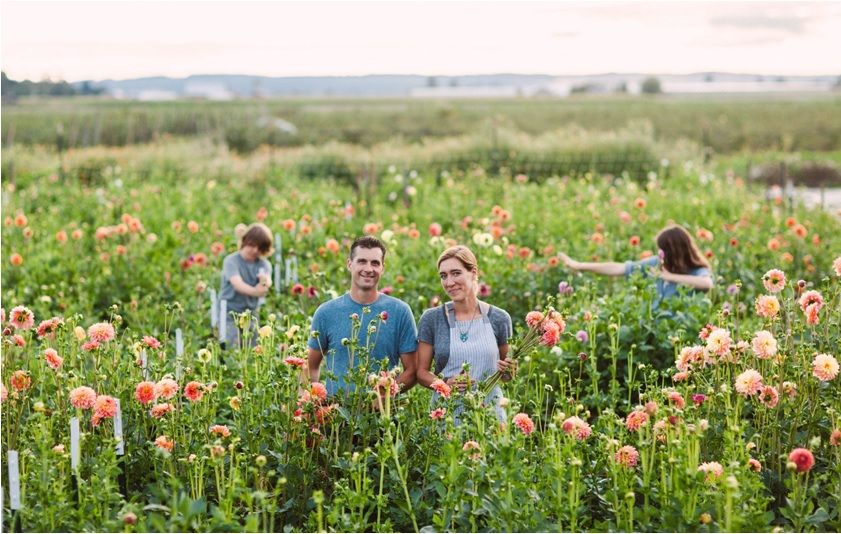 Erin benzakein is the name behind the floret flower farm, she is an inspiration for the new generation of florists, and she conducted workshops at her farm which is situated in Washington's plush Skagit Valley. She says it is her home. Her grandmother was her inspiration and when she died she left Seattle and came to Washington, after establishing her farm she started giving lessons to interested florists, so it has now become a flower business which was started eight years back.
Floret flower farm is now supply flowers to wedding and events and local stores are also buying flowers from them. Erin is very keen on sharing her talent with enthusiastic learners, there is this Floral team which opens a workshop every year and look for attendees, so they learn ways to design or grow their own organic farms. Participants from all over the world are taking part in these workshops. Erin says drive and creativity is what we need to plant a beautiful garden and farm.
Participants are first given demonstration on harvesting and then they can roam in fields even they help with the cutting of flowers and loading in the trucks to use for other arrangements.
Erin herself designs her farm which is now brimming with flowers, she constantly test new varieties of flowers approximately 50-100 flowers at a time and create a new unique type she is a master of Dahlias and her favorite is Café au Lait out of the 75, café au Lait has a creamy blush hue and can grow as large as a head.
Attendees are mostly interested in wedding floral designs so on the final day they focus on centerpieces; they set a long table with flower arrangements and gather around it for the celebration. It presents a magical view just like from some story tale where everyone watches the setting sun rays pouring on the flowers and a mystic glow with the candles, they celebrate late into the night.
Since 2016 team at floret flower shop is scheduling the workshops around the world they are travelling from country to country teaching one day classes so that more interest is developed among people about farms and flowers.
Erin's floret flower farm is the source of bread and butter for many people working there, many women are earning for their family by working to pluck the flowers at farm. You just feel amazed when visit their farm as the floral arrangements and the designs are amazing view of creativity. For Erin it's like a drug she had support of her husband and family throughout her journey. She wanted to influence other farmers to grow more flowers and produce florists.
How to Choose Flowers for Condolence?
No matter how saddening it is for the bereaved family to lose someone so special to them, as a friend or relative, you should do your part to at least lighten up their hearts. Sending a condolence wreath can be a token of sympathy that you can use in expressing your concern and care. The mere look of a fresh bunch of flowers is more comforting than words.
It is important that you consult with a professional florist in arranging a funeral wreath. Although you can always do this by yourself but giving the item a professional look may require the skills and knowledge of color and arrangement of flowers.
White flowers sent as a sign of sympathy at funeral include sympathy lilies, white roses, orchids and irises. White roses are the symbol of spirituality, purity, and innocence. At a funeral, the red rose evokes love, grief and respect. The yellow rose is often given by friends to show their bond. The dark pink roses are used to express thankfulness to the deceased, grace and admiration. Lilies are always the best choice because they symbolize sympathy. White roses on the other hand symbolizes humility. Carnations are also a good choice because they are for the purpose of remembrance.
The foremost thing to do is to choose the right kind of flower arrangement. Here you must consider your relationship with the deceased. Not all kinds of arrangements are appropriate for funerals. You may choose a casket spray, arrangement on a stand or wreath if you are from the immediate family. Table arrangements and heart-shaped arrangements are also a good choice. You can choose a standing spray or informal arrangement if you are a member of the extended family. Sending a wreath, basket arrangement, bouquet in a vase,or a live plant for a close friend or colleague is more appropriate. Friends can send flowers directly to the home or to the family member whom they wish to comfort, while co-workers can have flowers delivered to the grieved family.
The second most important thing is considering the faith of the deceased. The right choice of flower arrangements can vary depending on the faith,cultural belies, or religious traditions of the deceased. In Jewish custom, flowers are not displayed at a funeral home instead, sent directly to the family members' homes. Garlands are more commonly seen at Hindu funerals than flower arrangements.
It is also important to choose flowers for funerals based on the gender of the deceased person. White flowers are appropriate in almost all floral arrangements for funerals. However, if you wish to customize it to make your arrangement stand out,you may opt to choose other colors of the flowers based on the gender of the departed loved one.
These guidelines may help you to design a condolence wreath on your own. If you do not have much time to perform such a task, call out for help by contacting Shopalarose. Shopalarose has the perfect arrangements of roses that last for a year. We make sure that you are sending not just beautiful, but appropriate and meaningful condolence wreath, so that a thoughtful effort will surely warm up the hearts of the grieved. We also recommend you roses that last a year.
---