Must-Have Home Improvement Tools That are Worth Buying in 2018
With minimal investment, a new and untried homeowner can start their own tool chest and grow it over time as new projects arise and their skill level increases. There are a few tools that a DIYer at any skill level will appreciate in their tool chest, and that are versatile and can be used for a multitude of projects. Here are five must-have home improvement tools that are worth buying in 2018.
Dremel 8220-1/28 Cordless Rotary Tool

Instead of buying a bunch of separate tools, every homeowner should have a tool that is pretty versatile that can take on a bunch of different projects. To solve this need, homeowners should look at one of the fastest grown divisions of power tools, the oscillating tool.
The Dremel 8220 Cordless Rotary Tool allows you to grind, cut, sand, and scrape with unmatched versatility. This tool has a lot of cutting power and includes a variable speed feature and battery fuel gauge that allow it to give you high performance and strength at all speed levels.
Using a 12-volt Max Lithium-ion battery, the Dremel 8220 has a thin, ergonomically design body that gives you a 360-degree grip so you have control no matter what the position. You also have the ability to use any existing Dremel attachments and accessories so you can work on a wide variety of projects. Plus, the Dremel 8220 gives you a longer run time of 33 percent when cutting screws.
Pros:
Great for hobby use with good build quality
Awesome battery that lasts longer than previous models
Lightweight, easy to use, and pretty quiet
Cons:
Definitely plasticky so not very durable
Not for professional use
To learn more about oscillating tools, watch this useful video:
Makita XFD061 Brushless Cordless Driver-Drill Kit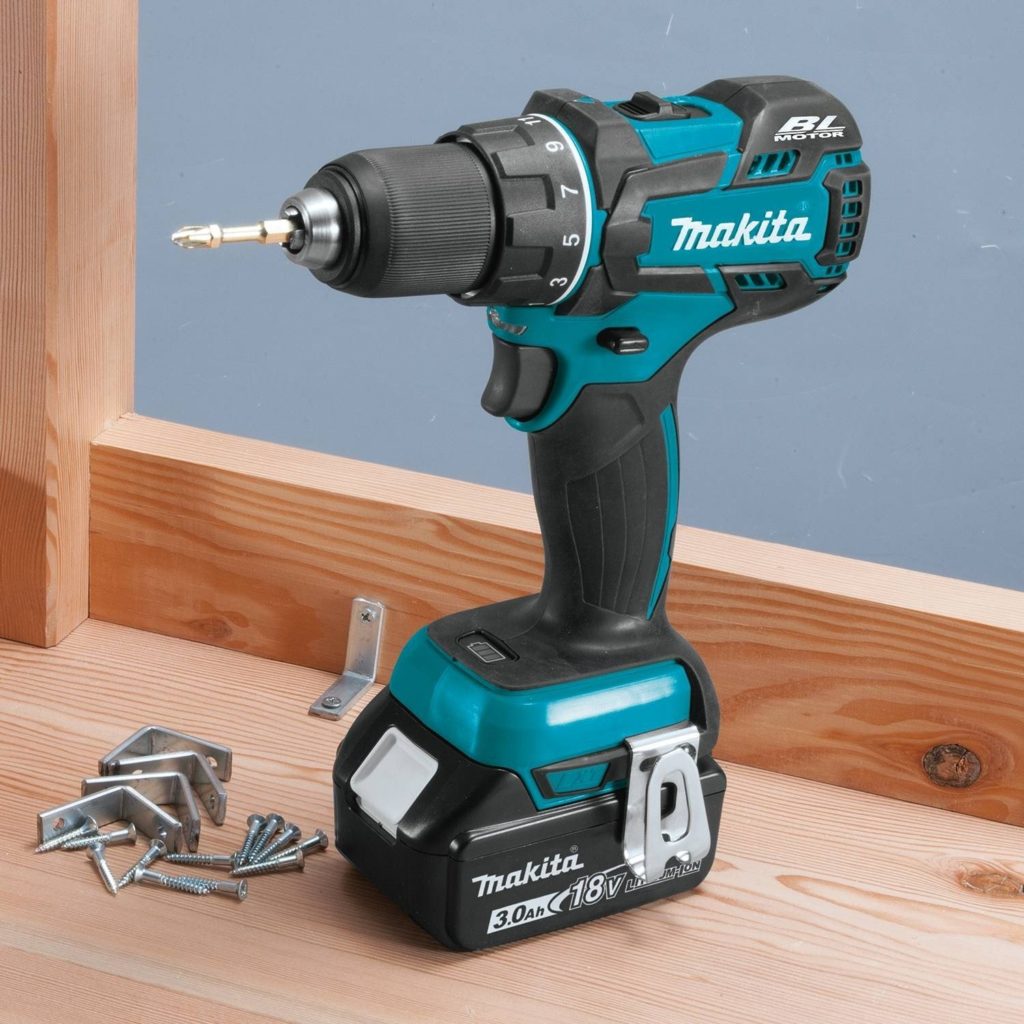 Another very handy tool to have around the house as a new or experienced homeowner is a good cordless drill that has the power and speed to take on all sorts of projects. The Makita 18V LXT® Lithium-Ion Brushless Cordless Driver-Drill is a great solution for your driving and drilling needs. With an incredible power-to-weight ratio, the XFD061 merges an effective brushless motor with 530 pounds of max torque.
Experienced homeowners will appreciate the power, productivity, and long-lasting battery power of the Makita XFD061. When in driver mode, you can adjust the torque settings to give you more control over a wide variety of projects. Weighing only 3.8 pounds, the XFD061 is a compact, versatile, and fast charging drill that features Star protection Computer controls that stop overheating, overloading, and over-discharging.
Pros:
Incredibly durable and can withstand being dropped
Long lasting battery gives you lots of productivity in one charge
These drills work until you wear through the plastic
Cons:
Battery dies quickly
High Low switch can slip out of gear
Cooper Tools AC14V Adjustable Wrench

It isn't necessary to get a full set of wrenches when you can just get a couple of adjustable wrenches that have adjustable jaws that will fit different sized bolts and nuts.
You will also find that some of the adjustable wrenches are also self-ratcheting so that you don't have to take it off of the bolt to tighten it. With the Cooper Tools Adjustable Wrench, you get a tool that includes a tension spring that will stabilize the jaw and knurl so you can adjust nuts and bolts easily.
This heat-treated wrench is constructed of alloy steel and has dimensions that proportioned for the most strength but also keeping it lightweight. It is also corrosion and rust-resistant, with its chrome plated finish. Measuring four inches long, this is a comfortably sized wrench that has a ½-inch jaw opening to easily adjust nuts and bolts in tons of projects around the house.
Pros:
Well-built and sturdy
Great value for a DIYer
Small, lightweight, works well
Cons:
Not professional quality and made in China
The slide can feel a little loose in your hand
Sog Flash II Folding Knife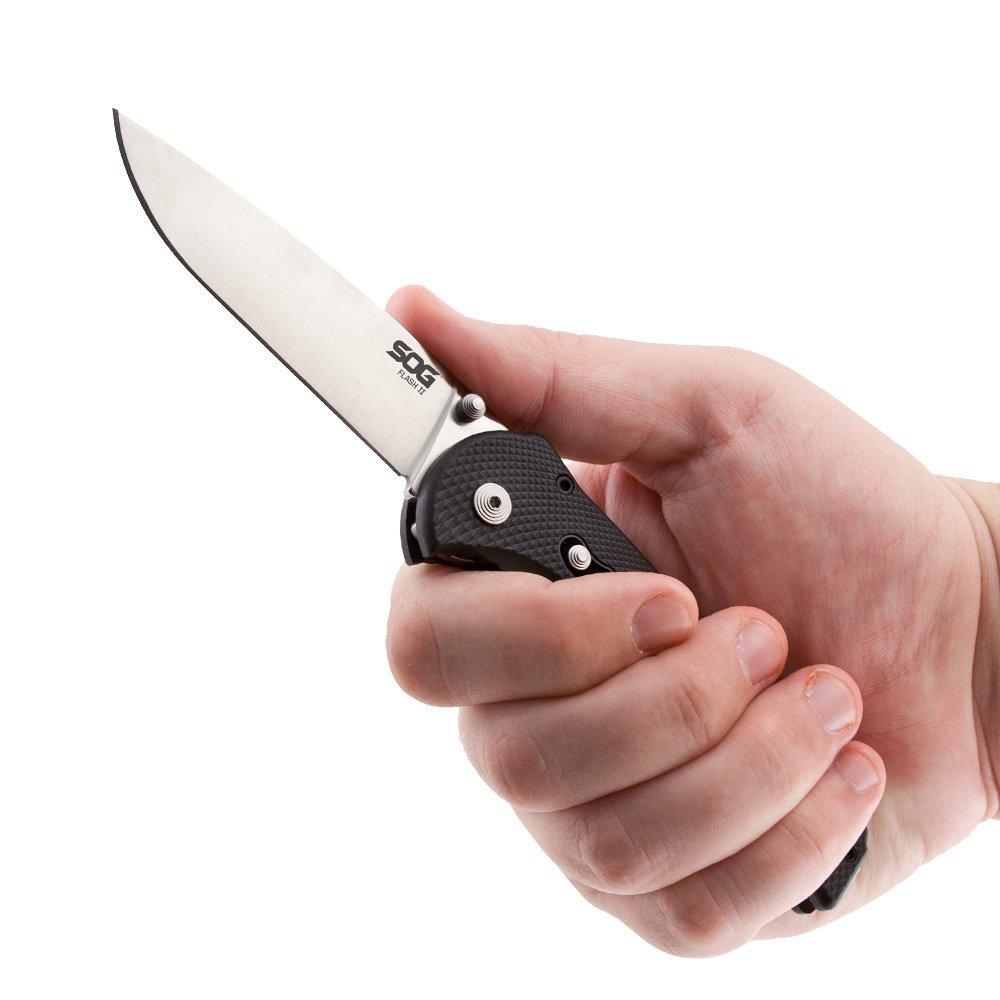 Sometimes sticking with the basics and having a tried and true tool on hand makes the most sense. You might have a bunch of multi-tools in your toolbox, but there are a lot of times you just need a nice sharp blade. The Sog Flash II Folding Knife is a handy tool to have around the house that works great and keeps its edge sharp (and if it goes dull, you can always sharpen it with a Dremel). Not only does it feel great in your hand, but you flip it open with just a flick of your wrist.
With a pocket clip that is reversible and bayonet mounted, the Sog Flash II will stay in either your pocket or belt. It also features an added safety lock for extra security that includes a strong safety button and this 3 ½-inch straight edge knife is made of AUS-8 steel in a drop point shape with a satin finish. Plus, the handle is made of nylon that is glass-reinforced with a black finish.
Pros:
Easy to open with just a flick
Great quality, good weight
Has a lock option
Cons:
Need two hands to close the knife
Closing mechanism is in an awkward place
Bosch PS-41 Compact Impact Driver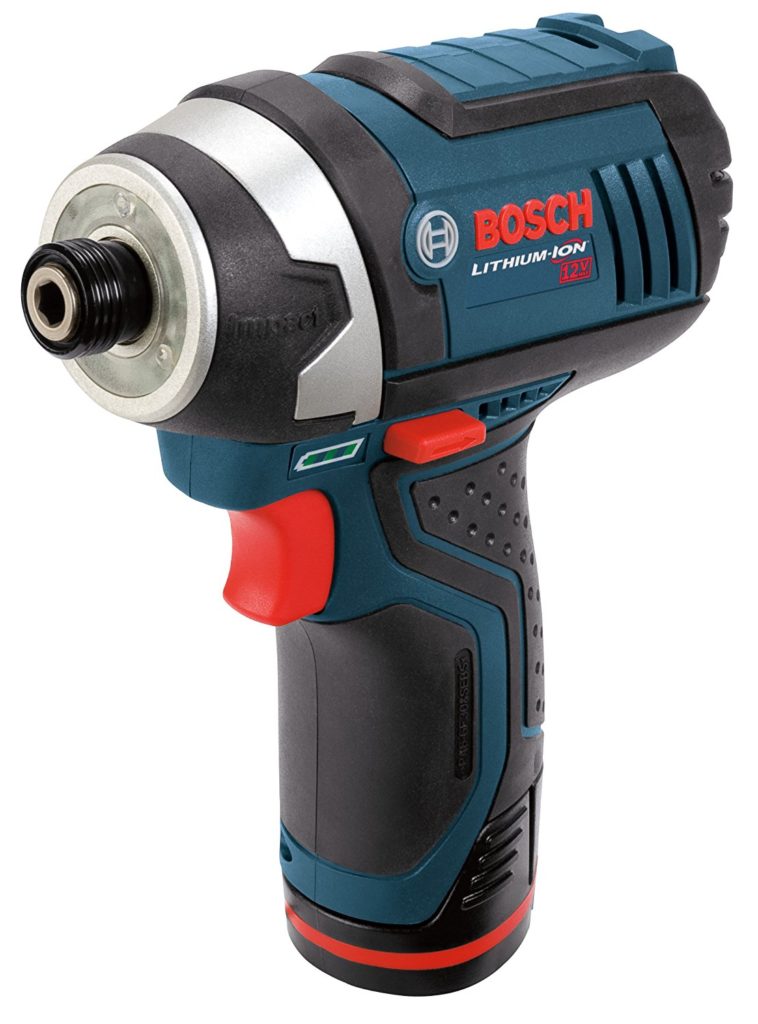 You are probably wondering how an impact driver differs from our previous entry the cordless drill. Besides its driving power and torque, an impact driver is a great option for boring holes and driving fasteners, plus they are fast becoming the new popular tool to add to your toolbox. It offers more driving power to hit the driving mechanism with a tremendous amount of force and then it will retreat and repeat the process until you have finished the job.
Designing no-nonsense tools, Bosch creates tools that are solid and durable and their impact drive is no exception. The Bosch PS-41 has the appearance of a drill, but it was really created to drive bolts and is not only good for building flat-pack furniture, but also for use on your car.
This compact tool also features a LED light ring, a battery fuel gauge, and the highest speed of its competitors at 2600 RPM. This small tool provides a huge punch which is what an impact driver is all about.
Pros:
Compact, powerful, and has a good finish
Long lasting battery, good quality material
Very handy for wood screws
Cons:
A little on the expensive side
Can drive a screw on too hard if you aren't careful
To learn more about the impact driver and how it differs from a drill, watch this useful video:
.
Conclusion
As the New Year approaches, people tend to start making lists of projects that need to be done around the house. Today, we discussed tools to take care of regular home improvement tools, but also make sure to consider tools you'll need for outdoor projects and regular yard maintenance, like a good lawn mower, leaf blower, weed eater, etc.. Make sure you have all the right tools to get these jobs done and that they reflect the right skill level and experience level of the person doing the work.
Author Bio
Alex is a firewood cutting fan and a chainsaw expert. He owns a ranch in Montana where he lives with his wife and son. He is a tech cowboy who enjoys writing his blog ElectroSawHQ.com.
---