Places to Visit in Yamunotri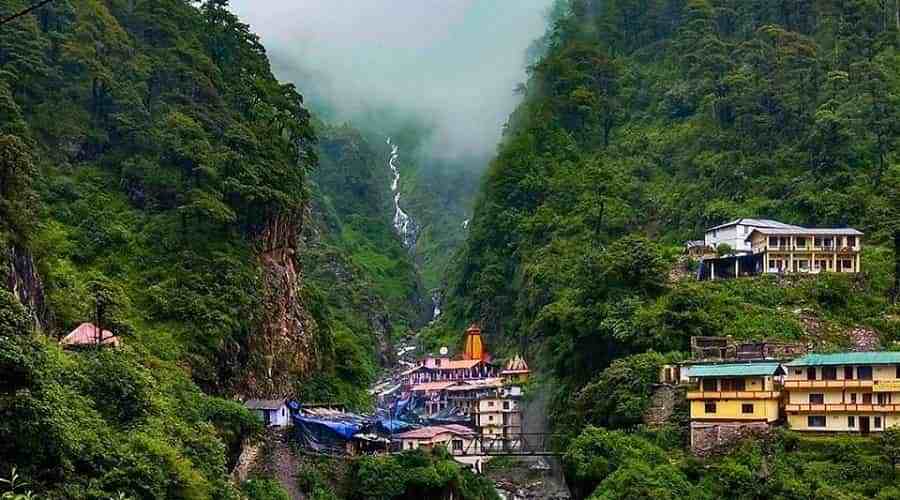 Yamunotri Dham is a holy pilgrimage destination perched at an altitude of 3293 meters amid the Garhwal Himalayas. The Yamunotri Dham is an abode of Goddess Yamuna and is one of the Dhams of the Chota Chardham pilgrimage circuit. It also marks the origin of the sacred river Yamuna and is an important pilgrimage destination for all devout Hindus across the country and globe. Yamunotri Dham, in fact, is the first of Chardhams in the Chota Chardham pilgrimage circuit and the Chota Chardham Yatra starts with the Yamunotri Dham visit. The Yamunotri Dham also marks the origin of the sacred river Yamuna and pilgrims to Yamunotri Dham often take a holy dip in the Yamuna River to set themselves free from the mortal fear of death. This pilgrimage destination is specially known for salubrious ambiance, hot springs and mighty glaciers. The pilgrims who visit Yamunotri Dham also get to visit other nearby places in the course of the Yatra. In fact, pilgrims often embark on the Do Dham Yatra of Yamunotri and Gangotri helicopter tour; the two abodes dedicated to two different River Goddesses of the country; Ganga and Yamuna. Those who wish to complete the Do Dham Yatra in just one day can avail the Yamunotri and Gangotri Helicopter Tour facility. If you are planning to visit Yamunotri Dham this Yatra season and wish to know about the Yamunotri sightseeing places, read on-
Saptarishi Kund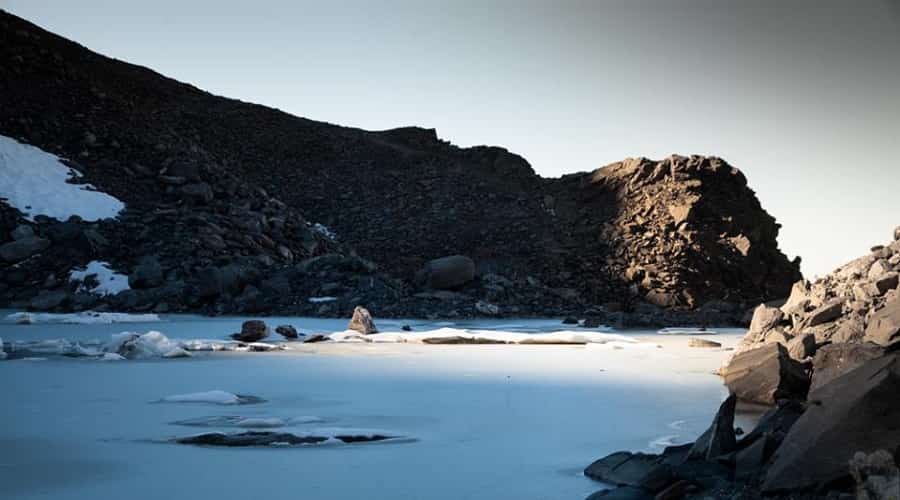 This Kund is a revered pond about 10kms away from the Yamunotri shrine. The lake is a geographical source of River Yamuna. The Saptarishi Kund trek is a popular trek near the Yamunotri temple and has a diameter of about half a KM. The waters of the lake have a darkish blue hue and the lake's bank is strewn with naturally formed slate rocks. The lake acts as the blooming bed for the very rare lotus species; the Brahma Lotus. As per myths, seven famous and revered sages or 'Rishi's' such as Vishwamitra, Bharadwaj, Vashishtha, Atri, Kashyapa, Jamadagni, Gautama had meditated on the banks of this lake in the Vedic period. The Kund lies amid high snowy peaks and sublime vistas. This kund is also the source of a very precious gemstone; the blue sapphire.
Kharsali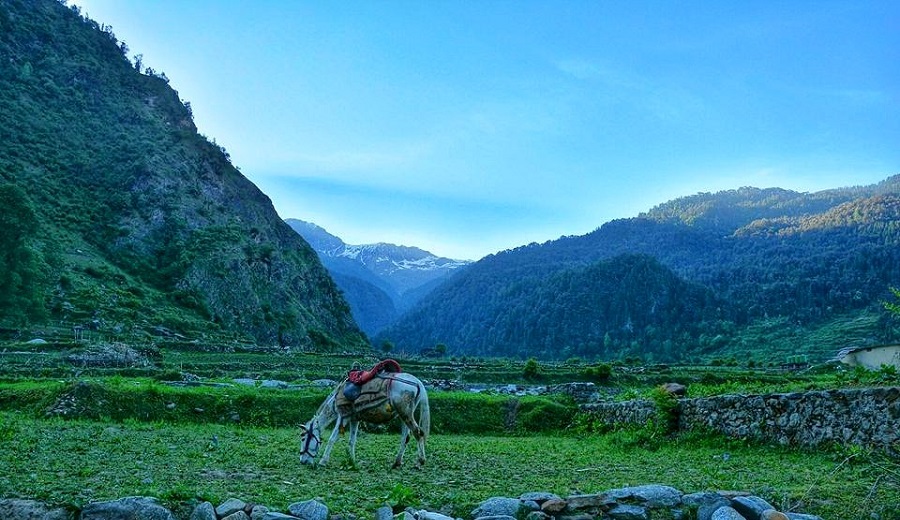 Kharsali is a tiny, scenic hamlet in Uttarakhand's Uttarkashi district and is cradled at an altitude of 2675 meters above sea level. Kharsali and Yamunotri are 6kms apart and Kharsali serves as the winter abode of Goddess Yamuna. In the winter months when Yamunotri becomes snow covered, the idol of Goddess Yamuna is shifted to a temple in Kharsali. The pristine natural beauty of Kharsali often attracts tourists and nature lovers to this beautiful place.
Surya Kund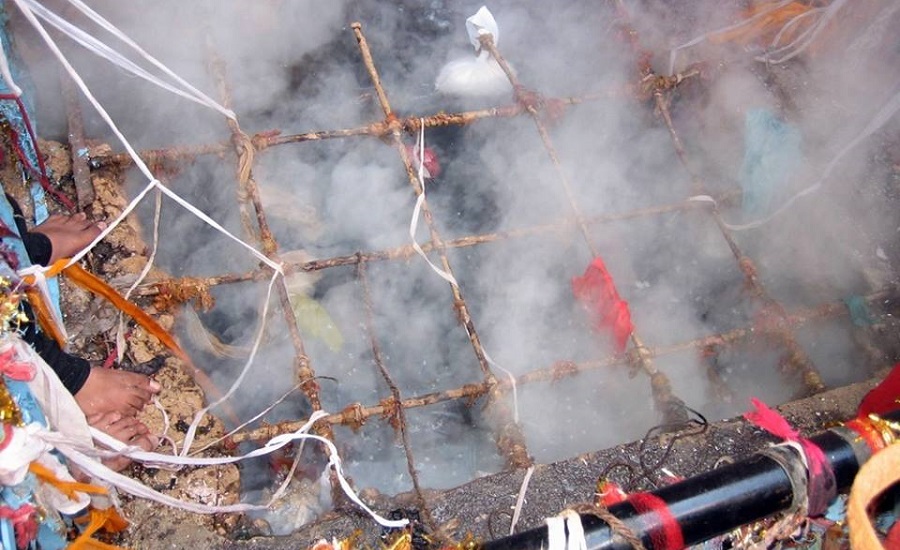 Surya Kund is a thermal spring named after the Sun God. It is located in vicinity to the Yamunotri shrine. The hot spring with boiling water set amid snow-capped mountains is a stark contrast and a miracle steeped in divine glory. Pilgrims to Yamunotri shrine often take a cleansing bath in the waters of Surya Kund before entering the temple. They also prepare Prasadam for the deity by dipping a potli of rice and potato into the hot spring of Surya Kund.
Janki Chatti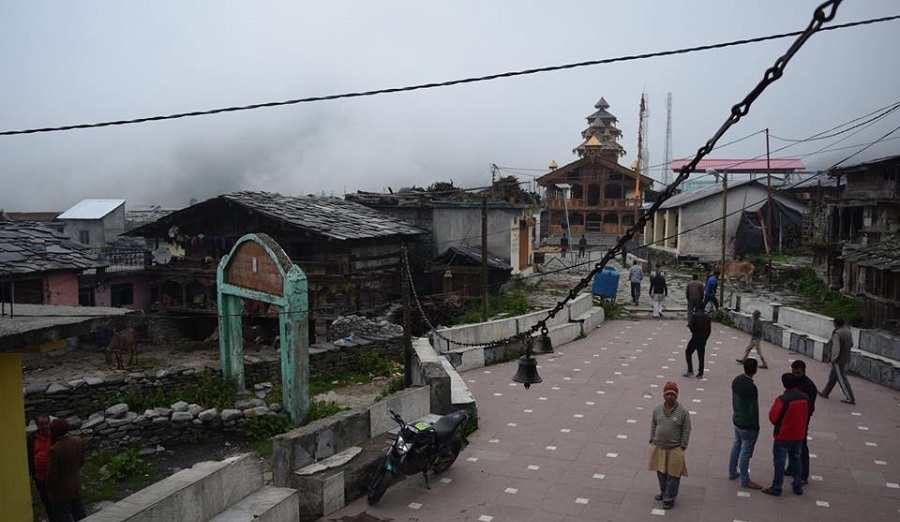 Janki Chatti is located at a distance of 7kms from the Yamunotri shrine. The place is dotted with several natural hot springs. The virgin beauty of nature is well mirrored through this beautiful hill station. Janki Chatti is also the final motorable road heading to Yamunotri Dham from where the trekking commences.
Hanuman Chatti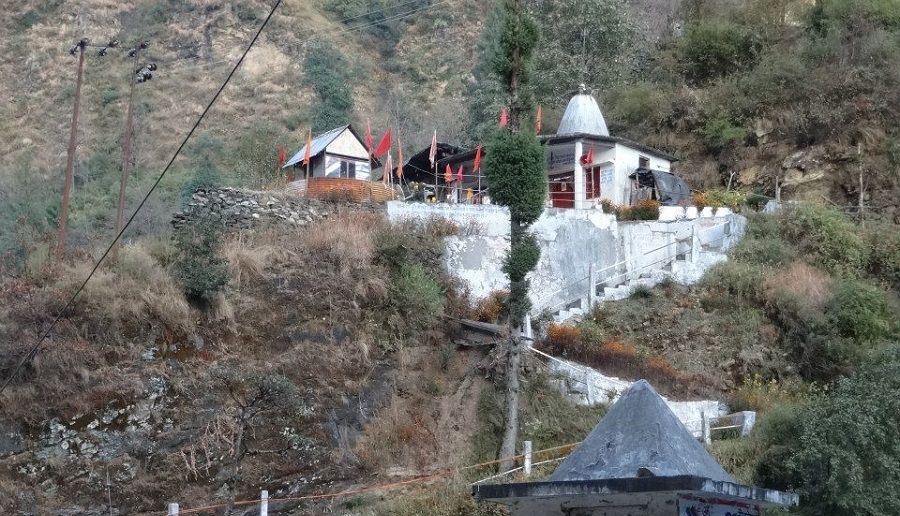 Hanuman Chatti is the commencing point of both Dodital Trek and Yamunotri. It is located at a distance of merely 13kms from the Yamunotri Dham. It is basically the meeting point of River Yamuna and River Hanuman Ganga. Further, the region of Hanuman Chatti is famed as a scenic trekking spot. Right from lofty hills to fragrant meadows, everything that stands for trekking is to be found in this place.
Divya Shila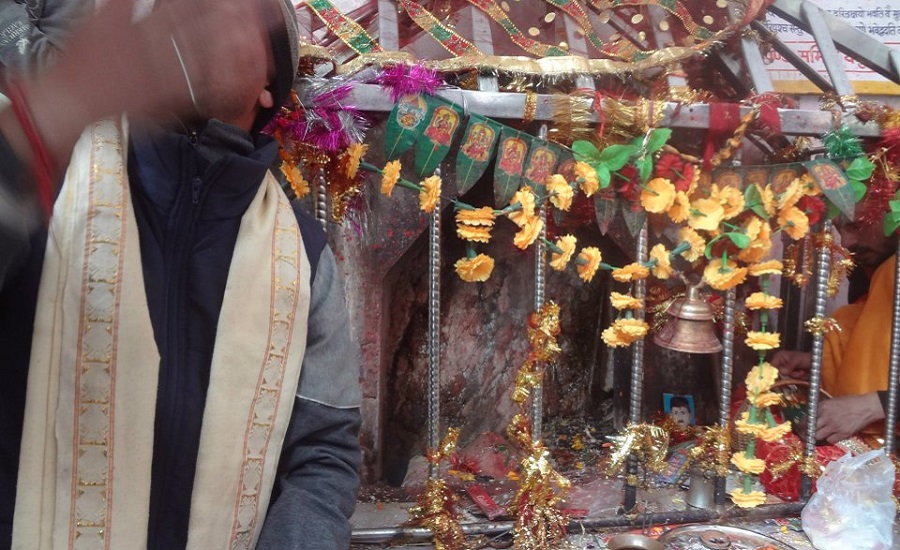 Prior to entering the main shrine pilgrims to Yamunotri often pay their tribute to this holy rock lying outside the Yamunotri shrine. This sturdy rock pillar located in vicinity to Yamunotri shrine is a symbol of the goddess herself as per common belief.
Barkot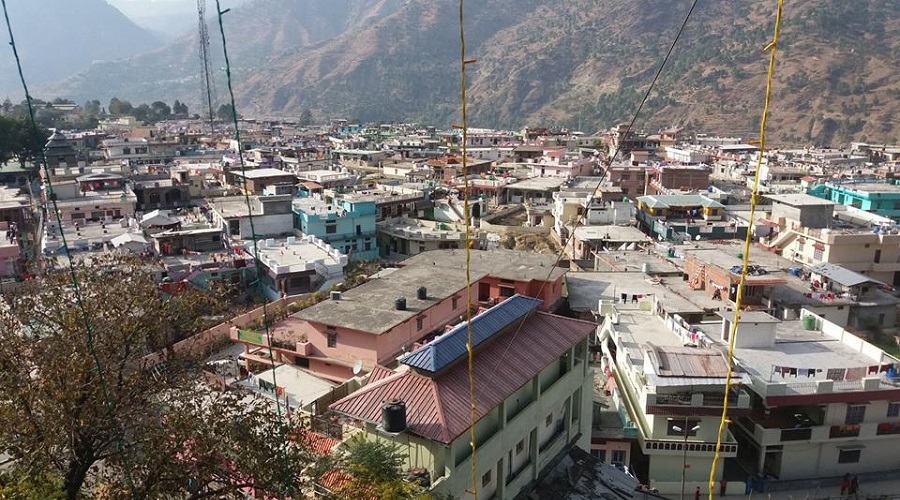 Barkot is a scenic Himalayan hamlet perched at an altitude of 1220m above sea level. Barkot is a popular stopover for tourists and pilgrims on their way to Yamunotri. The ravishing scenic beauty of the place, the majestic snowy peaks, the gushing Yamuna River all conjure up a perfect scenery to offer the mind with solace. Barkot is an ideal destination for nature lovers and adventure enthusiasts as many adventure treks start from Barkot.
Dayara Bugyal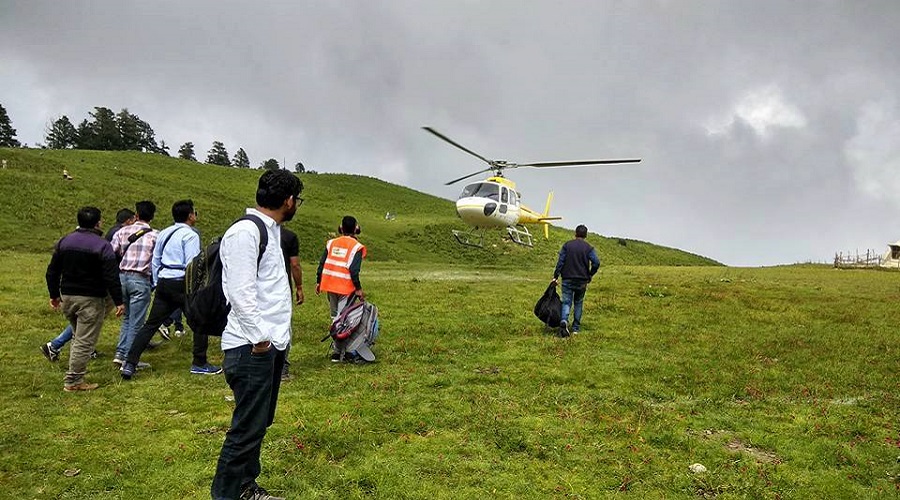 This high altitude meadow at an altitude of 3048 meters above the sea level is a scenic paradise. The meadow is cloaked with verdant green grass and covers an expanse of 28kms. The meadow is adorned with a natural lake known by the name of Barnala Tal.
Dodi Taal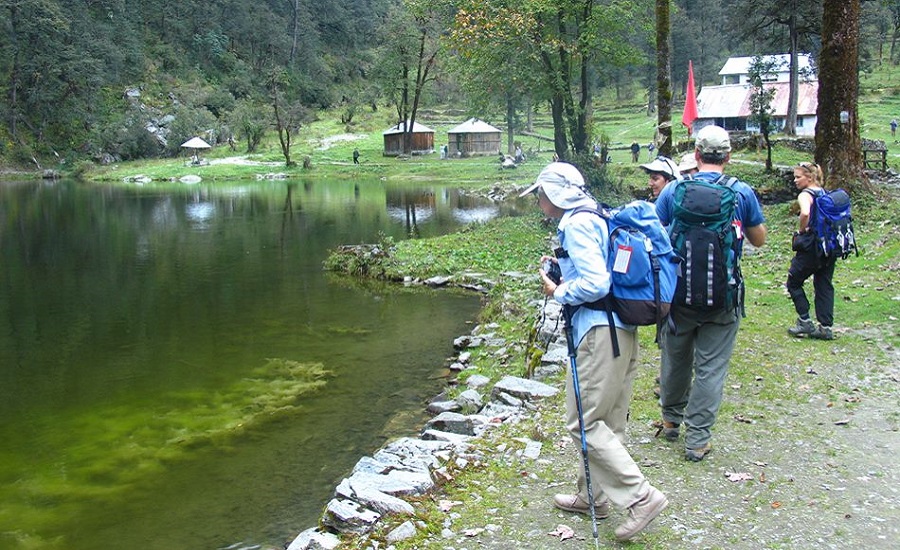 This beautiful glacial lake is cradled at an altitude of 3307 m above sea level. This mysterious lake is often believed to be Lord Ganesha's birthplace. The lake is located amid dense woods and rhododendron gardens and is home to a host of Himalayan trout fishes. The Tal marks the source of River Assi Ganga; a tributary of River Bhagirathi. One can undertake a trek to Dodi Tal across the scenic trails. The trek commences from the valley of River Bhagirathi.
Best time to visit
If you want to experience the best weather at Yamunotri then make sure to get here during the summer months of May to early July. Remember to go there prior to the commencement of the monsoon months. Remember not to make your journey during the monsoon months of July to early September since the region remains prone to life-threatening landslides and unexpected torrential rainfalls.  
How to reach
The most convenient way of getting to Yamunotri Dham is by opting for a road journey which will take you via Barkot and Dehradun. In case the traveller decides to take the Haridwar and Rishikesh roadways then the road to reach Yamunotri will be diverted from the point of bifurcation at Dharasu. There is no direct road for Yamunotri Dham but the final road head for Yamunotri is at Hanuman Chatti which is connected to a number of cities in Uttarakhand including Rishikesh, Barkot, Tehri, Dehradun, Uttarkashi etc.
Author's Bio:
I am an avid traveller and a seeker of everything that is peaceful to me. I love watching romantic and comedy Bollywood movies while grooving to the latest Bollywood dance numbers. I am also currently working in a top-notch Chardham yatra provider company that offers various packages like Yamunotri and Gangotri helicopter tour, Kedarnath and Badrinath heli yatra etc. I have also maintained my interest in spiritualism. I love spreading positivity and good vibes everywhere I go.
---