Small Bedroom Decor Changes to Make Your Bedroom Feel Fresh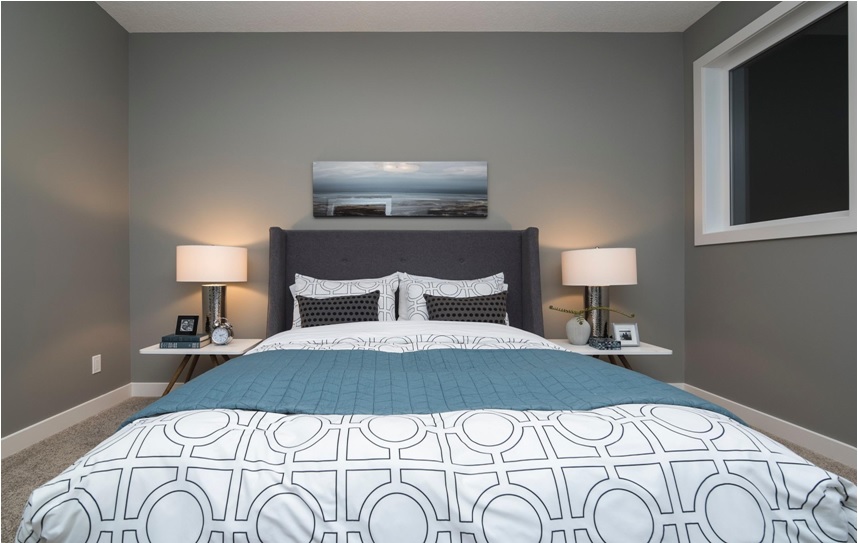 Complete renovation of the house is an expensive decision to make which is why a lot of people decide to postpone it as much as they can. However, not making any changes to your home can ultimately make it feel boring and you can lose that feeling of excitement and pleasure every time you walk in. Your bedroom is one of the most important rooms that you don't want to be bored of which is why doing some changes every once in a while is a good idea.
These changes don't need to be expensive – with a couple of hundred dollars you can completely transform your bedroom and give it a hint of luxury without spending a fortune.
Add Some Color To The Walls
Painting as little as one wall in your bedroom can bring an entirely new vibe and transform the room in a way you have never seen it before. You can choose to do a full makeover or add your touch to a few boring walls if you want to cut costs and the time spent.
A good practice is to paint the wall that the bed is positioned against in a color which is contrasting to the rest of the room. If your furniture is fairly dark you can choose a deep shade of red. If, on the other hand, you want to give your room a fresh, summery look, go for a color which is relaxing such as lavender or pastel green.
Get New Beddings
Buying new bedding is the easiest thing you can do to refresh your bedroom and improve your comfort. The bed is obviously the centerpiece of the bedroom so naturally, the focus falls there.
Investing in new bedding is a smart move to make. It will not only make your room feel cozier but it will make your bed feel more inviting as well. Opt-in for high-quality bedding – it will cost you a bit more than the classic superstore bedding will but you will get a unique set with good quality which will not get easily worn out due to washing it. Going for fabric such as Egyptian cotton is the right way to go – you will get a luxury item that apart from looking good it is also very pleasant to sleep on.
For an extra touch of luxury, place a lot of cushions on the bed. The rule of thumb says that you need to cover one-third of the bed with cushions so it doesn't look overcrowded.
Bring in The Plants
Adding greenery to your bedroom is good due for multiple reasons: it will give your bedroom a fresh look, it will remove toxins from the air and the pots of the plants can be used as decorative items.
When adding plants to your bedroom, you can go for one big plant and position it in the corner and several smaller ones that can go on the nightstands or on top of the furniture.
Being in touch with nature is good even in your bedroom. Depending on the colors in your bedroom, choose decorative matching pots for all of your plants and improve the overall aesthetics of your bedroom.
Add a Mirror
A tactically placed mirror can make the entire room look bigger, plus you can look at yourself in it, meaning that it is very practical.
A good position for a mirror is opposite of the windows. This is especially true if you have greenery on the outside. The mirror will obviously reflect what's on the other side of the window and give you a nice view.
However, if you already have mirrors in your room, for example a mirrored wardrobe, then this might not be the right choice for you. Too many mirrors can make the room feel unpleasant.
Dress Up the Walls
If you are going for a minimalistic design, then it is okay for the walls to be bare. However, in most of the cases, the bedroom is busy with furniture. If the walls are left empty then it feels like something is missing.
Look around your home and see if you can find some decorative items you can hang on the wall. If not, getting wall art is relatively cheap. You can pop into some charity shops or garage sales and you will find a ton of different artwork. Choose the one that fits the colors in your bedroom.
Bottom line, you can always go online and look around for free stock photos with a good picture quality that will make a nice addition to your bedroom. Print the photo out, get a nice frame and job done!
Use String Lights
To create the ultimate modern yet elegant bedroom you will need string lights and a bit of time and imagination. String lights bring an irreplaceable feeling of ecstasy – that's the reason why you always think "Oh wow!" when you see those bedrooms on Pinterest with discrete lighting.
One thing that you can do is create a bed "curtain" out of string lights. You would need to attach the string lights on the ceiling above the bed and simply let them hang loose like a curtain. You can also add some transparent fabric and create your own canopy.
Add Shelves
If you don't have shelves in your bedroom then that is something that you need to do immediately. Floating shelves are the perfect option to go for since they are minimalistic and they do not interfere with the rest of the decor in the room.
You can place items such as framed pictures, small plants, lights or memorabilia items on them and make your room feel like your own little world.
Transforming your bedroom into a magical space does not have to be an expensive project. All you need to do is invest a little bit of time and a bit of money and you can turn your average bedroom into something that everyone would envy you about. Small changes can make a big difference so instead of using your bedroom only as a place to sleep in, you can turn it into the room you would love to spend time in.
Author Bio:
Sebastian Morales is Founder and CEO of Good & Bed. Prior to Starting Good & Bed, Sebastian was an investment banker based in New York City.
---