How Should Students Write Scholarship Essay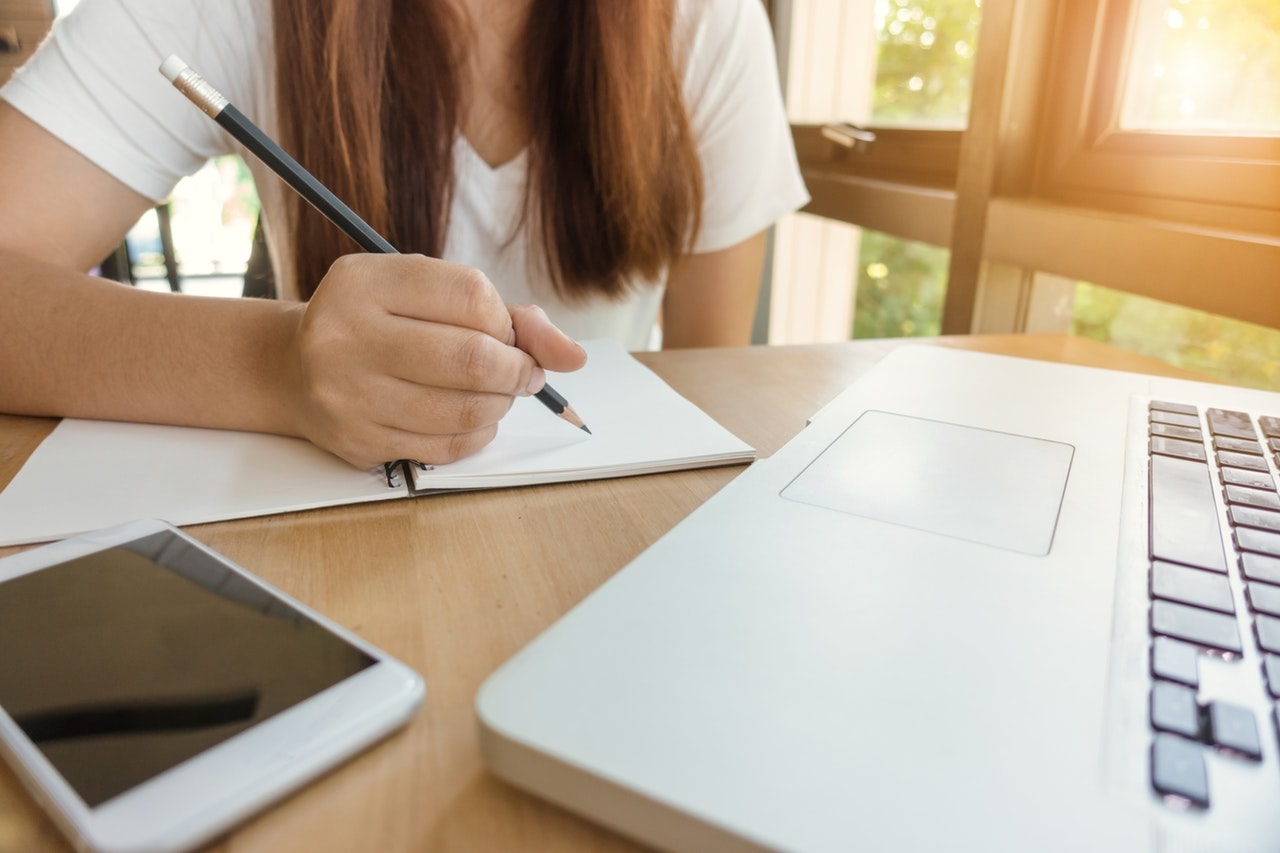 Introduction
The scholarship essay is the most important document of your entire application for admission into an educational institution. It must be written with care and free of errors.
When it comes to applying for financial assistance in a college or an educational institute, a scholarship essay is the most important part of a student's effort to become eligible for financial aid to support their future studies and be able to complete their dream education. Not all the students can bear the expensive costs of education in world-class institutions; they avail various scholarships offered by the university to the bright and passionate students; applying for a scholarship is not easy though. It requires a lot of work including writing a top-notch scholarship essay accompanying your admission application to convince the management about offering you financial aid. Let us see how a student can write an effective scholarship essay to achieve their dream scholarship.
Grabbing the Reader
Writing is all about grabbing the attention of readers. Therefore the scholarship essay must start with a strong introduction and end with a strong conclusion to become the strongest candidate among many who apply for scholarships. The readers can spot the difference between an effective and persuasive essay from an unattractive one. The scholarship essay must be intriguing and specific which must leave the readers interested in your words. From the introductory paragraphs, you can add the action words and describe your true financial situation to convey everything.
Rearrange Your Ideas
Your ideas may be great, but they might not be in proper order in the scholarship essay; always ensure that you go ahead and rearrange your ideas and phrases in more appropriate places to make your scholarship essay stand out from the rest. The topics of scholarships tend to overlap where there are thousands of applicant. Recycling your work will pay you better.
Always Surprise
Many decision-makers might ask you the question "Who is the biggest influence in your life and why?" Do not mention your father or mother into this question even if they are a great source of inspiration for you; that reason is that everyone else will do that too and that will make you no more important than them. Always provide a surprising answer that may not be 100% traditionally true but will sound more interesting to the decision makers.
Follow the Instructions Carefully
The readers can get easily turned off if they do not find the essay written without reading the proper instructions. A vague and unclear essay fails to convey the proper meaning to the readers, always go through content guidelines correctly. Do not write over the limits of your essay and exclude anything unnecessary because your future is at stake.
Stay Focused on the Topic of Essay
The decision makers are the final judges who are looking at hundreds or thousands of scholarship essays in a day; they are not interested in knowing about your interests like running with a dog or petting a hamster, they need facts and clues about your financial situation and the dedication you need to put into your education in order to acquire best results.
Check the Essay for Errors
A piece of writing that is full of errors or grammar/spelling mistakes is not an impressive document for the readers; the decision makers might throw it away or get turned down by so many typo mistakes and grammatically wrong sentences. Therefore always check for mistakes and errors in your essay and write it in perfect English to make a lasting impression.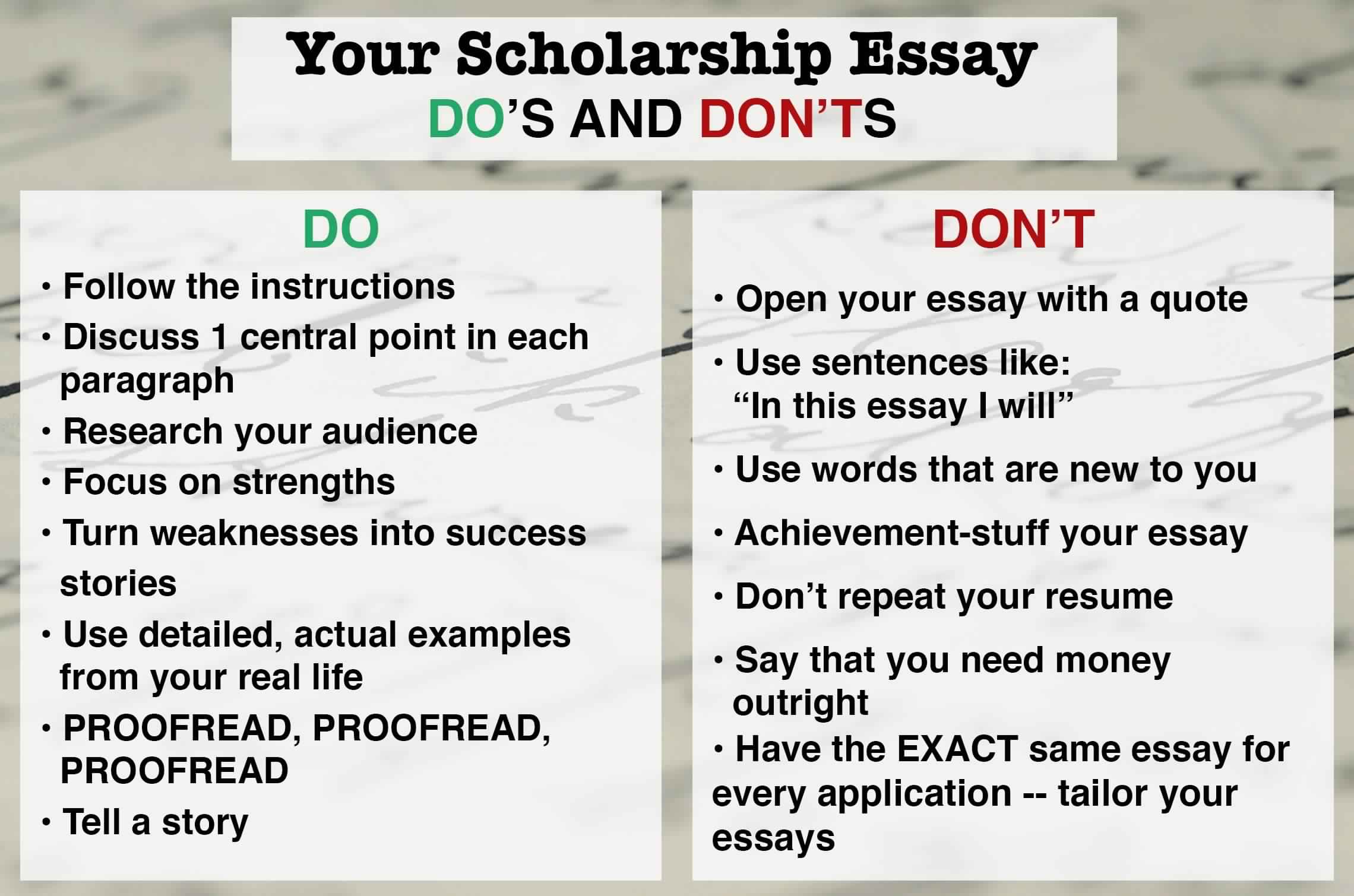 Care About What is Your Content
When you write your scholarship essay with genuine emotion and invest your time to think about all the necessary points to be included in the essay, the readers will get a better picture of your overall situation and the need to get a scholarship. Always care about what you are writing an essay and do not write what you think should not be written.
Avoid Redundant Conclusions
Keep the conclusions of your essay interesting and do not bore the readers by saying that you are the best candidate to acquire this scholarship. It is their job to decide whether you qualify or not, focus on being honest and emotionally intelligent. You can include things in your conclusion that will further strengthen your essay to influence the minds of readers who may be reluctant to offer you the scholarship. The true conclusion does not repeat anything that is already written in the essay and justifies deserving the financial assistance that university has to offer their most diligent and bright students.
Author Bio
Caroline Reid is the scholar and instructor in Michigan who focus on the Write My Essay personal development of young students in the university.
---
---