Your Guide to Hiring a Handyman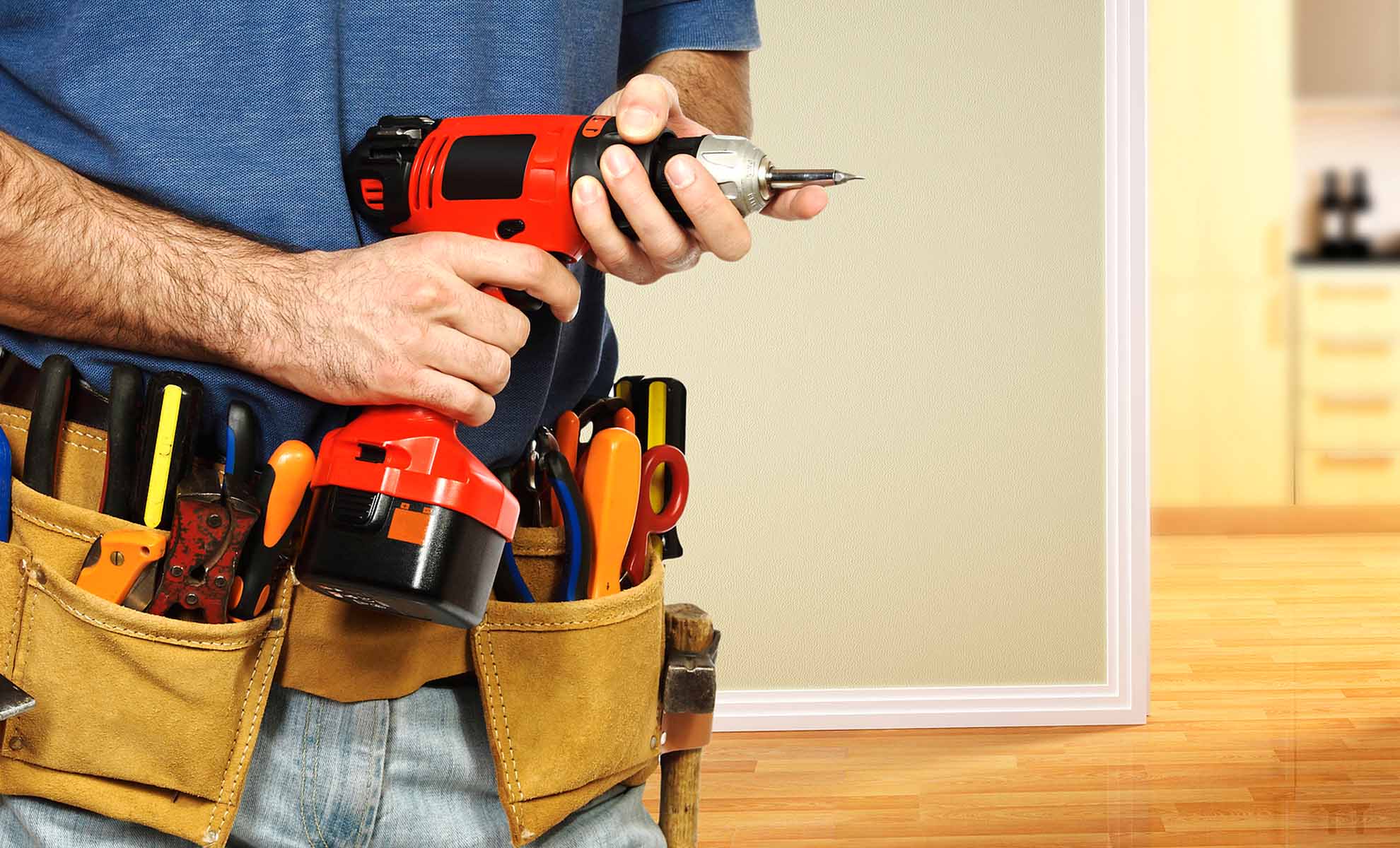 A handyman (or woman!) is a skilled worker who can complete a wide and varied range of home improvement or repair jobs. A handyman or a handyman service company will usually charge clients an hourly rate, plus the cost of any materials used, for any task completed. The term 'handyman' could apply to many people; some are self-trained, while others may have completed formal qualifications in various aspects of construction and home improvement. You can hire a handyman for a wide range of jobs around your home and garden, such as decorating, minor repairs, tiling, carpet fitting, garden landscaping and much more.
Do You Need a Handyman or a Contractor?
If you need a job doing in your home, the scope of the work and the level of skill and experience needed will help you determine whether you can hire a handyman, or if a contractor would be a better choice. Consider the task at hand; if it is a specialized trade task such as plumbing, electrical re-wiring or brickwork for example, it's best to hire a qualified tradesperson. A contractor, or at the very least a specially trained handyman, is the best way forward. Make sure that they have the relevant qualifications and licenses before you hire them.
Why Hire a Handyman?
There are several reasons why you might consider hiring a handyman. Usually, they are able to help with 'odd jobs' when it comes to home improvements, and if you have an ever-growing list of things that need doing around your home like changing a faucet, painting a wall or replacing missing tiles on your roof, a handyman can help you reduce the workload and tick things off your 'to do' list. In addition, because many handymen charge for their services by the hour, it can be a great way to get a lot of things done at an hourly rate, allowing you to save time and money compared to hiring individual contractors for each job.
Ideal Jobs for a Handyman:
A handyman service is usually best suited for small jobs around the home. Some projects that you may wish to consider hiring a handyman for include painting and decorating, minor plumbing work, gutter cleaning and maintenance, home exterior repairs, caulking doors and windows, repairing and restoring decks and porches, installing light fixtures, hanging mirrors and pictures.
Where to Find a Good Handyman:
When it comes to hiring people to work on your home, your main priority is finding somebody that you can trust to get the job done and work to the high standards that you expect. Since handymen are usually unlicensed professionals offering odd jobs around your home, it can be more difficult to make sure that you are hiring an individual who is reliable and reputable. However, the good news is that there are more resources than ever before available today to ensure that you're getting the right man or woman for the job. You could stick to old-fashioned, tried-and-tested methods like asking around in your local area for handyman recommendations, or turn to the internet where you can find handyman and handyman service reviews, to help you determine who would be a good fit for you. Edward's Enterprises, for example, is an hourly based handyman service with a website where you can book an appointment, request details and discover more about what they do.
Tips for Hiring a Handyman:
Once you have found a potential handyman or handyman service that appears to be a good fit for your home and your needs, it's important to keep some important hiring tips in mind. First, define your project by compiling a list of the home repairs and jobs that you need completed. Then, vet any potential handymen you have in mind and watch out for any possible scams. Check online reviews, ask around for verification if any of your neighbors have used the handyman before, for example, and know what to avoid. Be wary of handymen who contact you with unsolicited visits to your home and avoid any handyman who refuses to guarantee the price of the job or asks to be paid upfront; the majority of reputable handymen will not ask you to pay for the whole job before they start working, although they might require you to pay a small deposit. Most good handymen will also guarantee their work for up to a year, so be sure to inquire about this as well. That way, if anything does go wrong in the future, you know that you can rely on them to come back and make any necessary repairs and adjustments.
Hiring a handyman can be a great way to get things done around your home. Before you hire a handyman, know what you need doing, where to look for a reputable professional, and what to avoid.
---