Beyond Your Dreams: the Most Expensive Yachts in the World!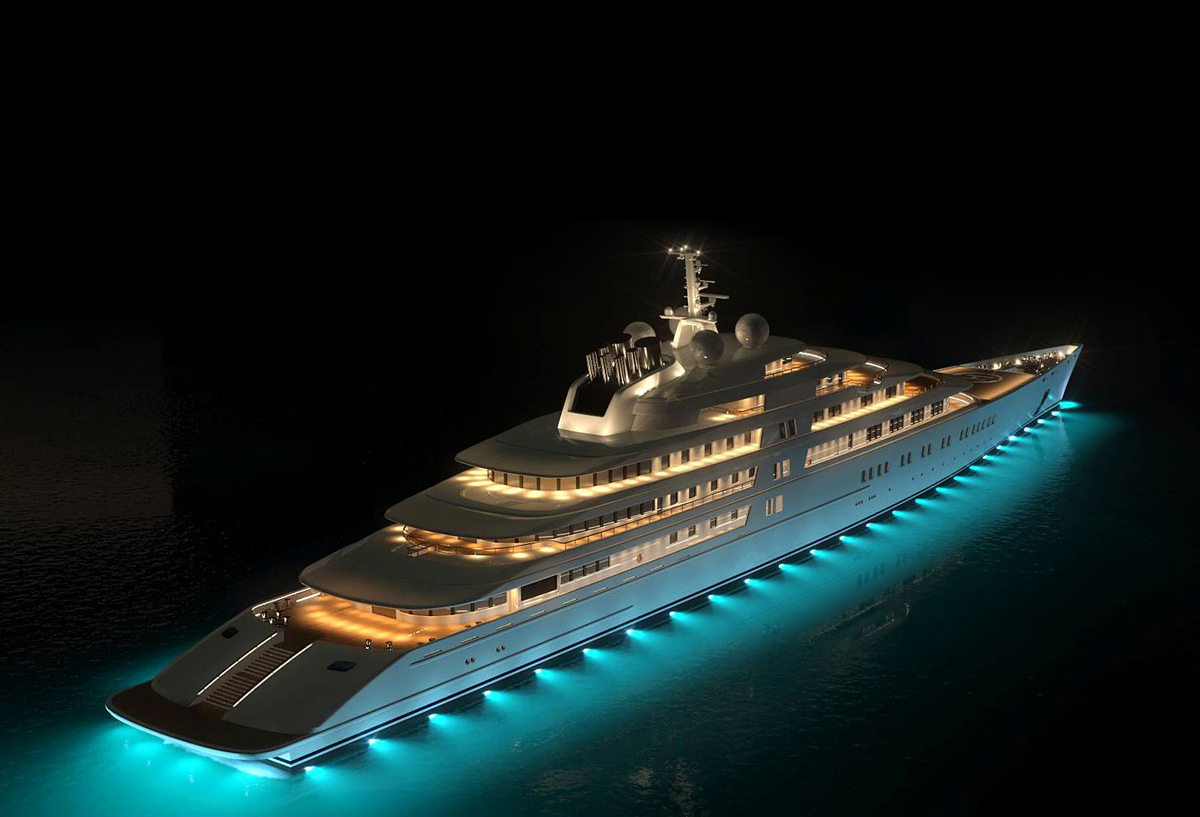 Yachts are the epitome of luxury and class which is why it is unsurprising to see such a hefty price tag on most of them. Whilst the public can only hope to see or, at best, rent these cruises, the global elite owns them. Here are the 10 most expensive yachts ever created:
Lotus Mega Yacht
The Lotus Mega Yacht cruises the Arabian Sea in one of the world's most glamorous cities, Dubai, under the banner of Mala Yachts. This yacht, unlike most in this list, is rented to the public. Don't jump out of your seats in excitement, even the rent does not come cheap. This is the reason why Lotus Mega Yacht is considered ideal for events and corporate dinners. Companies and offices often hold meetings, product launches and formal dinners on this yacht. Overlooking Dubai's skyline, the Lotus Mega finds its roots in the traditional Arabic Dhow Cruise Dubai. With a 400 table capacity and a 70 seat luxury cinema, this yacht is Dubai's crowning jewel on the sea.
Al Mirqab – $250 million
 Made for Quatar's Prime Minister Hamad bin Jassim bin Jaber Al Thani by German engineer Peters Schiffbau Wewelsfleth in 2008, The Al Mirqab is considered by many boat enthusiasts and experts as the most beautiful yacht in the world! Ten suits can house up to 24 guests each with an accompanying bathroom, living room and double bedroom. Hamad bin Jassim bin Jaber Al Thani has two VIP rooms whilst his crew resides on a whopping 55 rooms. A cinema, swimming pool, helipad, Jacuzzi and sundeck await all passengers on board!
Dilbar – $256 million
Named after his mother, the 360.89 feet long boat is known as the world's largest yacht of the time. It is frequently used by its billionaire owner to visit his private islands.
Owned by Russian oligarch Alisher Usmanov, The Dilbar Superyacht was built by Lürssen Yachts. This humongous boat stands at an awe inspiring 360 feet and boasts swimming pools, a helipad and many other luxurious features. The yacht, which is often used for charter between the Russian billionaire's private islands can accommodate 20 guests and a crew of 48.
Al Said – $300 million
Lürssen Yachts really know how to build super fancy yachts. Made for, and named after, Qaboos Bin Said Al Said, the Sultan of Orman, the Al Said is a mysterious figure in the yacht industry because Qaboos has never declared the yachts details. What we do know, however, is astounding. There is a concert hall in Al Said rumored to be large enough to accommodate a 50-piece orchestra. It can host up to 70 guests and a crew of 154. With Al Said's unknown details, this yacht could very well rank much higher on the list!
Motor Yacht A – $323 million
This 400-feet yacht is an absolute giant and looks like a stealth warship or submarine! This tough design was conceived by Blohm + Voss of Hamburg for Andrey Melnichenko, a Russian billionaire. The boat interior extends over 24,000 square feet housing and comprises of 2,500 a master bedroom disco and six guest suites. The coolest part? The yacht has moving doors so you can basically change what the yacht looks like anytime you want. The Motor Yacht A is a true piece of art! From mirrored surfaces to furniture, glassware and tableware made of French crystal, you can't keep your eyes off this yacht.
Dubai – $350 million
You know a yacht is going to come with a mind-boggling price tag when it's named the Dubai. Commissioned by Prince Jefri Bolkiah of Brunei it was acquired by Platinum Yachts for the ruler of Dubai, Sheik Mohammed Rashid al-Maktoum. Sunbathing areas, Jacuzzis and a swimming pool with handmade tiling, and that's just the backside of the yacht! A circular staircase that changes color along with the feature of interior handmade mosaics, the Dubai can carry up to 115 people.
Azzam – $650 million
Lürssen Yachts built the Azzam for the President of the United Arab Emirates and Emir of Abu Dhabi, Sheikh Khalifa bin Zayed al-Nayan. Azzam is considered by boat experts as the most complex and challenging yacht that has ever been built. This 590 feet long yacht, boasts excellence by being the largest private yacht in the world! The sheer size of this yacht makes it reality bending speed of 30 knots truly shocking! Christophe Leoni, a French interior decorator described the Azzam as "sophisticated and luxurious in a turn of the century Empire style"
Streets of Monaco – $1.1 billion
The top three penetrates the billion-dollar mark, a truly astronomical figure! This luxury yacht houses a floating replica of the city of Monaco. The Streets of Monaco is modelled on a section of Monte Carlo. This extraordinary 500-foot luxury liner is made by Yacht Island Design of Derbyshire County in England and it features some downscaled monuments from Monaco. Frome the Monte Carlo Casino and racetrack and the Hotel de Paris to Cafe de Paris, La Rascasse and the Loews Hotel. Mimicking Monaca's five-star hotels, the yacht has seven guest suites along with receptions rooms, bathrooms, dressing rooms and balconies, and that is only the center of the yacht!
Eclipse – $1.5 billion
Russian billionaire Roman Abramovich is proud owner of the Eclipse was built by Blohm and Voss which stands at 536 feet long, also making it the second largest yacht in the world. The Eclipse's immense size houses 24 guest cabins, two swimming pools, several hot tubs, and a disco hall for the interior whilst there are not two helicopter pads and three launch boats visible on the outside. Eclipse even has a mini-submarine capable of submerging up to 50 meters underwater and has an intruder detection system along with a missile defence system. The yacht also has armour plating and bulletproof windows and even has shields which scan surrounding areas with the laser in order to block off annoying paparazzi. It takes 70 yacht professionals to maintain the eclipse.
History Supreme – $4.5 billion
The History Supreme is the most expensive yacht ever created! The remarkable thing, this yacht is miniature compared to the rest of this list. The 100-foot vessel was designed over a 3 year course by Stuart Hughes, British luxury designer. The owner of the yacht has chosen to remain anonymous in order to avoid media attention but it known that he is of Malaysian background. So what attributes this price tag to a small yacht? The material. History Supreme is made of Gold and Platinum, 100,00 kg of it! From the deck and rails to the staircases, dining tables and anchor, the entire yacht is covered with a thin layer of gold. The master bedroom has a wall made from freaking meteorite rock. Imagine that, a yacht comprising of material not from this planet! The most bizarre attraction? A statue made from actual Tyrannosaurus Rex bones! A gold plated Aquavista Panoramic Wall Aquarium, $45 million diamond plated liquor bottle and an iPhone wrapped in 500 cut diamonds, it is things as incredible as these that make The History Supreme the most expensive yacht!
---